An Interview with Physical Therapist Jill Jumper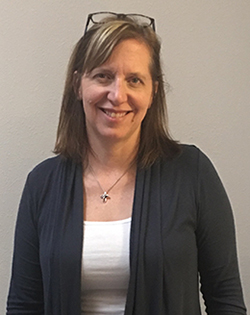 I recently interviewed Jill Jumper, PT, DPT to learn more about her job, especially in regards to working with persons with Parkinson's (PwP).
Besides being a licensed physical therapist, Jill is a board-certified specialist in geriatric physical therapy (American Board of Physical Therapy Specialties) and a certified lymphedema therapist.
Tell us a little about your experience with persons with Parkinson's
I have been fortunate to serve persons with Parkinson's (PwP) over my 18 years as a physical therapist. I became passionate about working with families affected by Parkinson's disease early in my career. I reached out to a local neurologist and shared this with him. After that he sent all of his patients to me because I could be his eyes and ears when the patient was not at his office for evaluations.
Communicating frequently with the physician made all the difference in the world to my patients and their care partners. I now teach as a full-time assistant professor in a graduate physical therapy program. All of my students know I am extremely passionate about working with PwP and their care partners.
What inspires you about working with persons with Parkinson's?
People are not their disease. They are people with hopes, dreams, and passions. I am inspired when I see the joy, the love, and the laughter in the faces of people who do not let a disease define who they are or stop them from living well. This inspiration and their fierce determination motivate me to work hard every day as a physical therapist.
What exactly is physical therapy?
Doctors of physical therapy (DPT) are described as human movement system experts. The goal of physical therapy is to help people move well. Therapists evaluate a person's movement patterns through tests and measures. Then we identify and work toward an individual's goals by working on strength, conditioning, and mobility.
What do you want your clients with Parkinson's to get from physical therapy?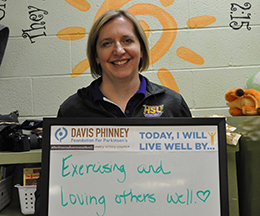 I want them to know they are not alone in this journey. The most difficult part of any chronic health issue is discovering that you can no longer do what you used to do. That is exactly why physical therapists are here. I want them to tell me their goals so we can work toward them together.
Research indicates that exercise is the number one way to control the progression of Parkinson's disease. I select the best exercises so they will feel stronger and more confident in their movement patterns. I want to show them that they CAN still do those things they want to do through therapy and by making exercise a part of their day.
How are you involved in your local Parkinson's community?
I continue to see clients in the clinic. I enjoy speaking to the local Parkinson's support group any time they ask. Group members are invited each year to meet my physical therapy students. Several research studies have developed from those meetings. The students gain great respect for those living with Parkinson's and learn much about how to prescribe effective treatments. I worked recently with a research faculty team at a nearby university for two Parkinson's-specific exercise studies.
Last year I volunteered at a local elementary school with Sidekicks®, a program offered through the Davis Phinney Foundation and several partners. It was heartwarming to see elementary kiddos talking, laughing, and making beautiful art with PwP all while learning about this neurological disease. I have seen a special type of community being built between these different populations and generations that makes me love my job even more.
What is your most memorable experience from working with persons with Parkinson's?
One of my favorite stories is about a couple in their late 80s. I will call them Stan and Emma. The neurologist referred Emma to me for in-home physical therapy. When I arrived, she was down in the dumps. I learned that they had started a Senior Dance night at the local senior center 25 years ago and attended faithfully until six months ago. Emma had not been able to dance due to her Parkinson's. So, we went to work. I saw Emma multiple times a week and had Stan doing the exercises with her in between our appointments. After weeks of therapy that focused on strength, balance, and endurance, Emma passed all of my tests. I told Stan it was time to turn on some music. He went to their old record player; music filled the room and they danced. We all cried. Emma and Stan returned to the Senior Dance night and the crowd was very excited to see them. I was thrilled that I could be a part of their story and it reminds me why being a physical therapist is so rewarding.
How does one schedule physical therapy?
Physical therapy in the home is beneficial for the entire family. Reach out to your physician and ask for help. For those who are eligible, Medicare pays 100% of the bill for in-home physical therapy. In most states, it is okay to see a physical therapist in an outpatient clinic without a referral, however, be aware that you may need a physician referral for your insurance provider to agree to pay for therapy.
Also, it is your right to choose which clinic you want to go to. It is a good idea to call your local physical therapy clinics to see if they have a therapist with experience working with persons with Parkinson's disease. Usually, Medicare pays 80% of outpatient physical therapy and 20% is out of pocket or paid by your secondary insurance company.
This article represents the opinions, thoughts, and experiences of the author; none of this content has been paid for by any advertiser. The ParkinsonsDisease.net team does not recommend or endorse any products or treatments discussed herein. Learn more about how we maintain editorial integrity
here
.

Community Poll
Do you participate in a support group for PD?