What Are the Stages of Parkinson's Disease?
Parkinson's disease (PD) is a progressive neurological disease. It is well known for affecting movement and balance. However, it can also affect mood and memory.1
PD affects everyone differently. It can progress at different speeds, and people can experience certain symptoms but not others.2
To better understand and treat Parkinson's, experts divided PD into 5 stages based on motor symptoms. This is called the Hoehn-Yahr (H-Y) staging system. However, motor symptoms are only 1 piece of the puzzle. Researchers are also beginning to use the Unified Parkinson's Disease Rating Scale (UPDRS).2,3
Hoehn-Yahr staging system
The H-Y staging system was created in 1967 by Drs. Hoehn and Yahr. These stages are based primarily on motor symptoms and ability to take care of oneself. The stages are:1,2
Stage 1 – This is the earliest stage. This includes mild tremors and mild difficulty walking. It affects only 1 side of the body. Loved ones may also notice less facial expressions. These symptoms do not interfere with daily life much.
Stage 2 – Symptoms worsen during this stage. Tremors and difficulty moving now affect both sides of the body. Daily tasks are more difficult but still possible to complete independently.
Stage 3 –Balance and coordination are now affected. Falls are a big concern. Help is needed for some tasks like dressing and feeding.
Stage 4 – Tasks become very challenging. Walking aids might be necessary. It may be difficult to live alone because most tasks require help.
Stage 5 – This is the most severe stage. It may be difficult to stand and walk even with help. People most likely depend on a wheelchair or may be bed-bound. New symptoms may develop, such as hallucinations or delusions.
Figure 1. Stages of Parkinson's disease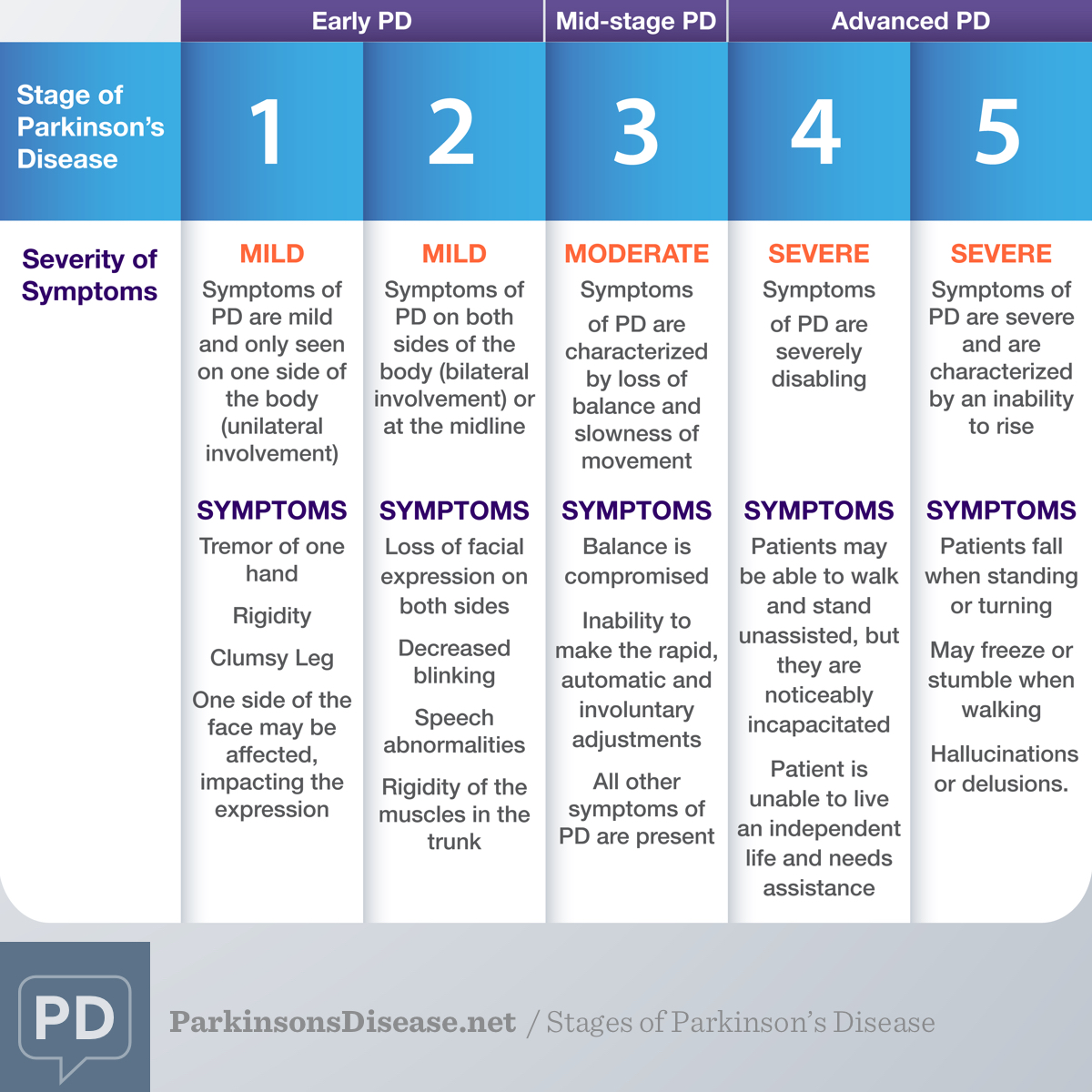 UPDRS and MDS-UPDRS
The UPDRS is another scale that looks at more than the ability to move and live alone, as well as non-motor symptoms. It is used by doctors to monitor the response to medicines used to improve the signs and symptoms of PD. The UPDRS contains 4 parts:3
Part 1 – Mentation (thinking), behavior, mood
Part 2 – Activities of daily living
Part 3 – Motor function
Part 4 – Complications of therapy
Parts 1 to 3 are scored on a 0 to 4 rating scale. Part 4 is scored with yes and no ratings. Higher scores indicate increased severity of PD. Once parts 1 through 4 are completed, a doctor can then complete the Y-H staging system.3
The Movement Disorder Society revised this scale to create the MDS-UPDRS. This new scale has the same format as the original. However, it is reorganized and emphasizes the non-motor symptoms of Parkinson's. It includes more symptoms such as depression, dementia, and nervous system function. These scales were created to be more thorough than H-Y staging.4
The 4 parts of the MDS-UPDRS include:3
Part 1 – Non-motor experiences of daily living
Part 2 – Motor experiences of daily living
Part 3 – Motor examinations
Part 4 – Motor complications
Parts 1 through 4 of the MDS-UPDRS are scored on a 0 to 4 rating scale. Higher scores indicate increased severity of PD. The MDS-UPDRS also specifies whether a caretaker or person with PD is answering the questions.3
What does this mean for me?
Parkinson's is a complex disease that affects many aspects of life. It is hard to rate the severity of PD using scales since the condition looks differently for everyone living with it.2
Also, people may feel differently about different symptoms. Some people living with PD might feel strongly about problems walking while others might feel strongly about difficulty speaking.2
The stage of your disease also cannot predict your lifespan or how it will continue to progress. The different staging systems were created to help experts and those living with the disease to have a clear way to discuss symptoms. It also helps researchers understand which treatments are helpful for which symptoms.2
If you have more questions about your PD or if you need more support, reach out to your healthcare team.
Engage with the community by asking a question, telling your story, or participating in a forum.