Tips for Setting Stress-Free Boundaries as Caregivers
Last updated: September 2022
To avoid caregiver burnout especially during stressful times, we as caregivers must maintain our wits about us if we are to come out unscathed on the other side. It is important to have realistic expectations from the beginning because taking care of another person can be not just emotionally taxing but financially vexing as well.
After all, what we are striving for is quality of life in both patient and caregiver. We must remind ourselves that whether it is a spouse, a child, or another relative who is doing the care, they too have lives to live and issues to deal with.
Before making a caregiving commitment
Caregiving is not an easy task and should not be taken lightly. Consider the following before deciding:
Learn as much as you can about Parkinson's disease
You can inquire from their doctor, other patients, support groups, or local and national organizations. The more informed you are the better you will be.
Keep realistic expectations and goals
For instance, what are their present cognitive and physical capabilities? Will they require minimal supervision, or will they need 24-hour care?
Know your limits
Be prepared to say "No" and stay firm in your decisions.
Be ready to ask for help and have a good support system
Also, have specific tasks they can assist you with like bathing, feeding, or doing grocery shopping.
Don't try to be a savior or a martyr
Because either the patient could resent you or you could resent them. Use the opportunity to share stories and learn from one another.
Make a plan in case of sudden illness
Have a clear and concrete plan should the patient become suddenly ill. Can the patient take his or her medications on their own? Will they need someone present to speak for them and administer medications?
Know the patient's last wishes
Should the need arise for Parkinson's loved ones to be on a ventilator, what are their thoughts on life support, and so on?
If you are up for the challenge and have lots of love to give, this is the right job for you. If you are feeling overwhelmed by the caregiving challenges you never saw coming, start by taking a deep breath and do some soul care first. Once you get your wits about you, think about ways to make this experience fun for everyone.
Ways of coping with the stress of caregiving
Lately, as we are spending more time indoors, I brought mom to stay with me because she has early dementia, yet she has been more help to me than vice versa because she is physically more able. So we build on each other's strengths to make life easier.
Both of our routines have been disrupted. I like to eat 3 meals a day right on schedule 6, 12, and 6 while she likes to eat breakfast while watching The Price is Right. Thus, we both had to set some rules about eating schedules to avoid causing each other undue stress. I also need more sleep than she does to function so we discuss this in advance so I am not being disturbed unnecessarily.
Tips to cope with stress
Practice meditation
Go to a dark quiet place, clear your mind and just breathe till your heart rhythm and breaths are in sync.
Take time to color
There are so many apps you can download for free. My favorite is Happy Color-Color by Number. You can download some of these as well and you can color with your loved one. Mom has a hard time coloring on the iPad, so I print pages for her to color and get the old fashion color books out. We can enjoy each other's company yet do our own decompressing activities.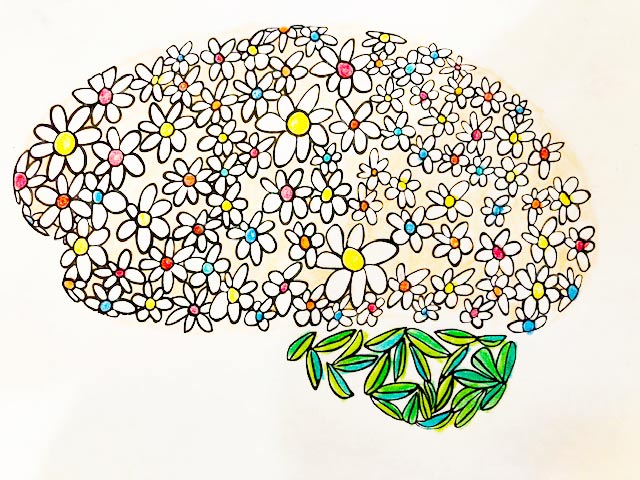 Take time to listen to music and dance
Play your favorite song and start to move – this can also lift the spirits of your loved one. I bet that soon he/she will join in. Even if wheelchair-bound, they can still move their arms.
Play games of all sorts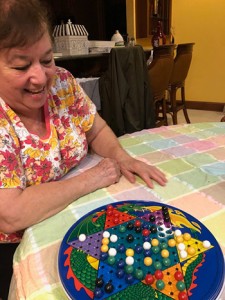 Either traditional games like cards, dominoes, or Chinese checkers, my mom's favorite. However, when you have a shaky woman and a dystonic one, where the marbles will fall is anyone's guess – which makes it part of the fun. Another way to stay mentally challenged and bring together the family or caregiver and patient alike is by watching game shows on TV. We have fun watching games like Idiot Test, Americans Say, and Family Feud and we all sit there trying to guess answers.
Enjoy nature
Even if you can't go outside, you can open a window to let fresh air in or look to see if you spot any birds. Make a game of it. Plant a small garden, even if it's an herb garden, seeing the plants grow will be exciting.
Remember that your being is more important than your doing!
Do you have tips to share about stress-free caregiving?
This article represents the opinions, thoughts, and experiences of the author; none of this content has been paid for by any advertiser. The ParkinsonsDisease.net team does not recommend or endorse any products or treatments discussed herein. Learn more about how we maintain editorial integrity
here
.

Community Poll
Do you experience issues with spatial awareness?