Expressing Our Memories in Words and Song
I come from a family where Alzheimer's is an issue. This fall, it collaborated with COVID to rob another family member of his life. Nearly 3 decades ago, it took my gram from us. I have a lot of great memories of her, though none of them came after diagnosis.
A disease that can wipe memories like some science fiction movie is truly "cruel and unusual." I often think of this cognitive loss, be it Alzheimer's or dementia, or if it is the medication causing cognitive loss, as a scene from Invasion of the Body Snatchers.
My experience with cognitive loss
I've had minor experiences with cognitive loss on 2 medications. As a result, I quit them both years ago. Now, my meds work well, so that's what matters. When this happened, I would be lined up to talk about serval topics. I would go from topic A to topic B, lose my direction to C, and not know where I was on topic B. Sometimes, I could bluff my way back in an extended thought jam. Other times, I'd just ramble to a halt. I didn't like that.
With Alzheimer's, I remember my gram's fear and emptiness. I know those words sound like some existential work by Kierkegaard, but her experience was nothing with a life-affirming message of conscious decisions to cope with indefinite reality.
Alzheimer's ends in bleakness on top of nothingness. I guess you could say it's dealing with the "nada" of Hemingway with his complete clarity of the sensory experience in writing. The key, as with Parkinson's, is facing it bravely while enjoying life while you can (in my opinion).
Documenting our memories
Many Parkinson's disease (PD) writers are able to express their experiences to help you understand this new normal that you or someone you care about is enduring. That said, many of us have written our lives for decades. I'm somewhere over 3 decades, myself, but yeah. I personally think everyone should express his or her life in writing for many reasons.
Let me get this out of the way. I taught writing for years, so it's natural that I would feel an affinity for writing our memories down. I realize that many people don't like it, but I wish more people would give it a shot. It's a skill that we can refine. The key is to find an outlet we can open up and be truthful to.
For instance, I use specific external keyboards when I use my laptop. This is because I can't type with the barrier in front of the keys. For smooth flow, I like more raised keys when I have the option. I also like being undisturbed with music to accompany me. This means I vanish to my office.
I used to be able to write by hand, but around 2,000 my hands started cramping when I did. I thought this was because I had been typing so much, but I found out it was a symptom of Parkinson's. Go figure; another comorbidity heard from. Apparently, Parkinson's is like Rome because all roads lead there.
Parkinson's and speech changes
Parkinson's eventually robs us of communication options. I notice my voice will slur and my tongue will twist over phrases like "community college" when it's in the middle of a sentence. As a kid, I had to get my tongue clipped to help speech, but this slur and my monotone, volume-adjusting voice are PD. This just means sometimes I sound extra mushy. Ears, voices, and hands... they're all fair game, just like memories... with or without Parkinson's.
Looking at my handwriting, I no longer recognize some of it. It's really sloppy and not so pretty. I'm not even getting into the random switch from capital to lowercase letters that I've been handwriting with for as long as I can remember. That said,  it's weird to look at this new scribble and think "I did that." It's like it almost wasn't me that did that.
Yeah, it's strange to look at a picture of myself and wonder, "Who is this person?" My memories go back to different versions of me. I have no idea who that guy in the black jacket in New York City was. It's like a story by Sartre, except the absurdity can't be transformed into laughs for the final scene of the final episode of Seinfeld.
How will we be remembered?
Someday we'll all shuffle off this mortal coil. What will be left of us is our stories. Who will tell them? How will we be remembered? Will we own our life or have it told for us? In the Mexican culture, there are 3 deaths (and yes, this is referenced in Pixar's Coco).
The third deals with no longer being mentioned or remembered (Washington and Lincoln are gone, but we remember them). I love family and world history. However, I look at the family tree and only see a dash and 8 numbers for so many people. Certainly, they and unmarked old photos were something more than this. Right?
Maybe your fingers are too rigid to type or you worry too much about grammar. That's okay, we can do this permanence thing with photos, art, audio, or video, too. In fact, it doesn't even have to be our own. We could compile our memories with family as a "getting to know us" moment. The options are here, and I encourage you to find yours.
We could compile famous quotes or songs that express who we are or who we were when it comes to leaving a "time capsule" for the next generations of our family. For example, my wife painted an amazing tulip I look at every night before bed. It's so her.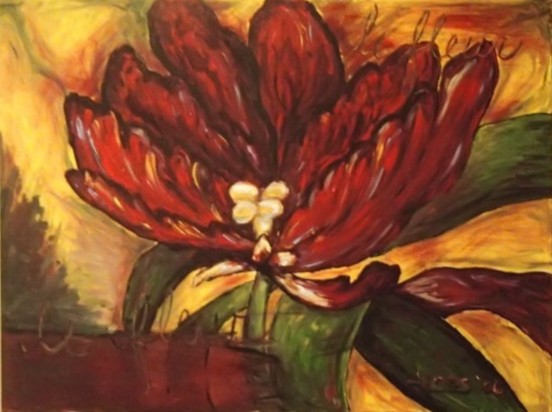 A playlist for new beginnings
I'm not an artist or musician, but I love music. I think creativity says so much about who we are. I make playlists for everything. Usually, I send them out at year's end. Now, I add one here for you to enjoy.
Between the lyrics and the beats, these 80 minutes of songs define me today, so I hope you enjoy them as a sort of new year's beginning present. Hopefully, it encourages you to make your own or at least listen to good jams while stockpiling your memories.
David Bowie - 5 Years
Louis Armstrong - What a Wonderful World
Bob Marley - No Woman No Cry
Bill Withers - Lovely Day
Otis Redding - Sitting on the Dock of the Bay
Allo' Darlin - Some People Say
Cowboy Junkies - Sweet Jane
Blind Faith - Can't Find My Way Home
Counting Crows - Walkaways
The Band - I Shall Be Released
Simon and Garfunkel - America
The Low Anthem - (Don't) Tremble
Nick Drake - Pink Moon
Wilco - Either Way
Tom Petty and the Heartbreakers - Wildflowers
Allman Brothers - Into the Mystic (live)
Grateful Dead - Eyes of the World (live)
This article represents the opinions, thoughts, and experiences of the author; none of this content has been paid for by any advertiser. The ParkinsonsDisease.net team does not recommend or endorse any products or treatments discussed herein. Learn more about how we maintain editorial integrity
here
.

Community Poll
Do you experience issues with spatial awareness?