Exercise 201: Fitness FUNdamentals
In a previous post, Exercise 101, the FITT principle was introduced. It addressed how often to exercise (Frequency), how hard to exercise (Intensity), how long to exercise in one session (Time or sets/reps), and what constitutes cardio and strength exercise (Type).
Those basics, while significant, may not be enough to motivate you to start with exercise or return to it after a hiatus, so here is a question for you:
Can exercise be fun?
Whether you respond with an upbeat "sure, why not?" to a tentative "maybe" or a resounding "no," this post is for you.
Playing isn't just for kids
Do you remember romping, wiggling, or skipping through your day as a young child? Crazy as it may sound, adults can add an element of play to their workouts and have a lot of fun, which makes workouts seem less like, well, work.
As always, the advice to first seek clearance from your physician must be offered, followed by the recommendation to work, as possible, with a therapist or personal trainer to start safely, especially if you are currently sedentary.
Movement and community
Your age at onset, current age, Parkinson's stage, and other factors must be considered but fear not – it is a sure thing that exercise can, and should, make you feel good and possibly even affect your personal disease progression in a positive way. There are many factors to consider but moving "Does a body good!"1
Community is also a good thing, especially for someone living with a chronic disease like Parkinson's. Working out with others builds a special type of support team while bolstering your resolve to start an exercise plan if you've been sitting in that all-too-present recliner.
Now, back to the question, "Can exercise be fun?" I am glad you asked.
Fitness FUNdamentals
Yes, every one of us can put some FUN into our fitness routine!
Dress for success
Wear bright colors! These stimulate your brain into "happy" thoughts, which can transfer to the exercise itself, so you think that the workout you just finished was, indeed, fun!
And while we are talking about clothes, it helps to wear fabrics that fit the exercise and the environment. Being comfortable throughout the workout and afterward contributes to a sense of well-being.
If you want to wear black and do not care about fabric technology, then at least buy a new pair of well-fitting shoes that match the activity you do the most. Your whole body, not just your feet, will thank you.
Try laughter yoga!
Did you know that your mind does not really know the difference between 'artificial' and 'real' laughter? What essentially begins as breathing exercises with laughing sounds turns into the real thing and you reap great physical and psychological rewards. Find a teacher near you and attend a laughter yoga class if you can.
Check out your local playground
Remember the fun you had as a kid on the playground? Your city might have a calisthenics park or at least a series of fitness stations in a park near you.
Try something new
This might be boxing, cycling, dancing, fencing, Tai chi, water aerobics, Pilates, yoga, or Zumba. In the early stages of Parkinson's, you may exercise in any class while later on, it might be best to work out with an exercise leader, personal trainer, or therapist who has experience with Parkinson's.
Make your exercise a friendly competition
Perhaps you walk three times a week with some friends. You support each other but also egg each other on a bit. How far is it across your city or from your town to a nearby state park? If you count 2,000 steps as a mile and record your daily steps or mileage in an exercise log, then the first one to walk the distance across your city or to the state park is the winner. The prize can be bragging rights or something inexpensive like being treated to a cup of coffee (not talking about fancy coffeehouses here) or light lunch.
Recruit a friend
Find an exercise buddy who will share the sweat equity and double the sweet reward of a workout. Have fun seeing how you can keep each other motivated.
Fartlek!
Do you remember how much bodily functions would make kids laugh? Have you ever tried fartlek? Confession – it has nothing to do with farts but is a Swedish term for "speed play." The goal is to alternate your walking pace between objects and a simple example would involve telephone poles. Begin walking at a pace you find reasonable and then speed up as you pass the next telephone pole. Slow down at the next pole and keep alternating your walking pace from pole to pole. You can use every 6th house if your utilities are underground or alter your speed block by block if you are in the city.
Spice up your exercise
Physical variations: Three days of aerobic activity one week could include three different types of cardio exercise: walking, water aerobics, and stationary cycling. This is not only physically good for you, but it is mentally rewarding and you do not find yourself thinking exercise is boring.
Cognitive variations: Do you always sweep or vacuum a room in the same pattern? Mix it up and make it a game to see if you can succeed with a different pattern or use your non-dominant hand. Pump your right hand upward with each step you take with your left foot and punch your left hand forward with each step of your right foot. Then switch after a set distance and pump your left hand up and punch your right hand forward.
Engage in some childhood activities (as long as your physical abilities allow): try tetherball, paddleball, or croquet. Some newer games worth trying are disc golf and pickleball.
Reward your dog and walk him/her over new terrain.
Reward yourself: Take an extra 30 minutes of reading or for puzzles once your housework is done. Treat yourself to a fun afternoon with your best friend window shopping or doing something you two don't often take time to enjoy.
Where to factor in the fun?
These and more fun factors await but for any of them to work, you need to determine what will be fun for you and where are you going to have this fun?
Find a nearby venue
It is common to begin with indoor exercise venues like a YMCA, health club, gym, recreational facility, or therapy center. It needs to fit your budget and be near you. Believe it or not, most folks don't want to drive more than 4 or 5 miles to exercise. The less distance, the higher the motivation to get there. There is a safety factor in working indoors with trained professionals either leading your fitness routine or in close proximity should you have a concern.
Exercise at home
You can exercise at home although it might be better to begin with a class so you know what to continue to do at home. You could watch exercise DVDs or online videos. There are many online exercise leaders whose workouts are available for a price. Look at their credentials and experience with persons with Parkinson's before making a decision. It is probable that they offer a week or a month at no cost so you can see what their exercise sessions are like. Most, if not all of them, make the exercise session lively and fun for the participants.
Go outside
Do you prefer the outdoors? It is true that the psychological benefits of exercise are many and they are enhanced when you go outside. Walk in the neighborhood, a park, or nearby hiking trail (if you are geographically fortunate). You used to love cycling but are now leery of your balance? Try a recumbent trike!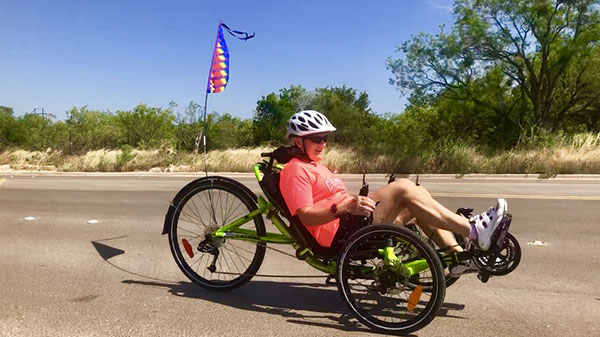 You will feel like a kid again and what is not fun about that? If you have been walking outdoors and want to add distance or want to feel more stable but are not interested in a cane, then try Nordic walking poles. They are used by all ages, offer improved stability, and add a bit of glee to your walk, especially when you pair them with snowshoes. Thank goodness the poles come with alternative tips to use on different terrains.
So, can exercise be fun? Absolutely!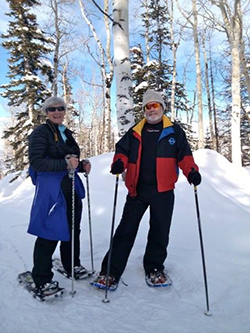 Claim the benefits of exercise all while enjoying it. For those who already think positively about getting off the couch and into exercise mode, then incorporate one or more of these fitness fun factors and continue to enjoy what you are doing. The naysayers and folks who are less sure about having any fun with exercise may need a little push and pull to get started but will be happy once they do. Anyone with physical limitations, particularly balance issues, will want to find a cheery, motivational personal trainer or therapist to get started.
Are you ready? Don those new sneakers, pull on that bright dri-fit t-shirt and step into your very own fit-and-fun lifestyle. It is win-win!
This article represents the opinions, thoughts, and experiences of the author; none of this content has been paid for by any advertiser. The ParkinsonsDisease.net team does not recommend or endorse any products or treatments discussed herein. Learn more about how we maintain editorial integrity
here
.

Community Poll
Which of the following caffeinated beverages do you regularly consume?