Who Should Be Included in Your Parkinson's Care Team?
Last updated: December 2018
I heard these words, "you have Parkinson's" and didn't have a clue as to what was heading my way. Among other things I learned it takes a team to stay on top of all the different aspects of dealing with Parkinson's. If one is proactive in dealing with their PD symptoms, much of the team will just naturally fall into place. It is important to have all the pieces in place as the disease progresses. Your extended CARE TEAM will include everyone from your medical team to your care partner. Your care partner is everything to you as the disease progresses. You are lucky if you have a caring, loving, and powerful advocate in your life as I do.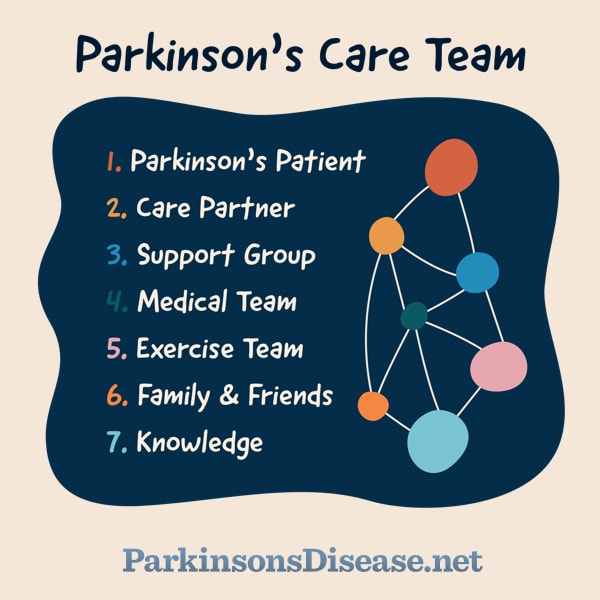 The one in the boat
Yes, the person in the PD boat has a team responsibility as well. First of all, one should take care of oneself for as long as possible. That will help your care partner. The team is built around you which makes you part of team. Accept the diagnosis, then start exercising, socializing, and learning. Do all you can for as long as you can.
Care partner
A care partner fills many roles. He/she assists, learns, teaches, and encourages. Day to day care is a huge job, but just as important is that your care partner can be the medical advocate for you. Having a partner who understands the medical aspects allows them to be an effective advocate on your behalf. In the practical sense of day to day living, your care partner also plays a critical role in making your journey safer.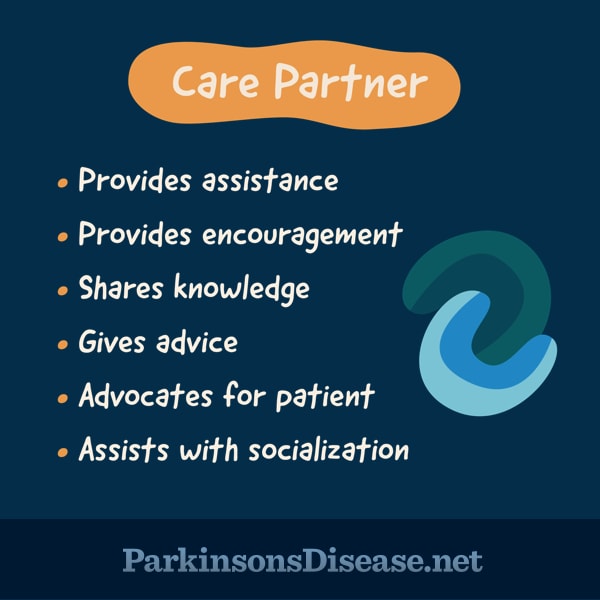 Support groups
Take advantage of support groups! You often learn something that pertains directly to your situation, and you are making new friends. Don't hesitate, join a support group now. If you are uncomfortable sharing your experience, you don't have to. Most support groups are not group therapy, but a great source of information and a safe place to socialize. In addition to learning from speakers and group members in a support group, you may meet interesting people and develop long-lasting friendships. With these new friends comes an understanding of what seriously ill people are going through and an appreciation for their daily struggle.
Remember, socialization may be the most important tool in your toolbox.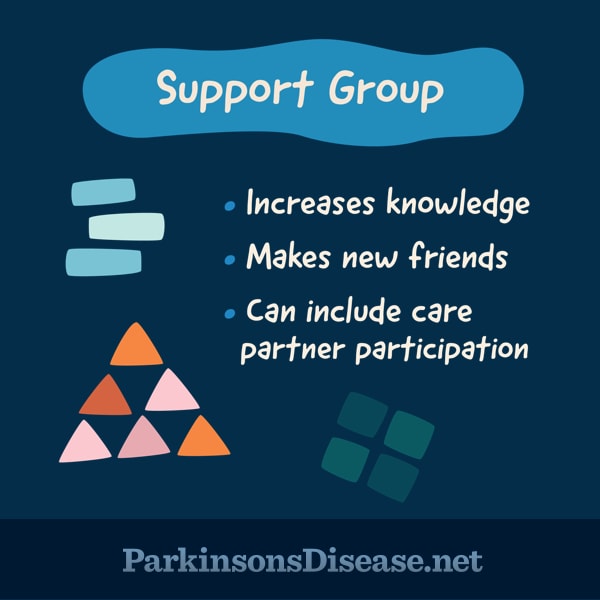 Medical team
Your neurologist should be #1 on your team. You may also want to check to see if your neurologist completed a fellowship in movement disorders. That means an extra year or two of study in the Parkinson's field. Experience is important in making this selection as your movement disorder specialist is your go to. As time goes by, your neurologist will explain your options to help manage expectations.
We also need to make sure we are prepared for every appointment. Although you and your doctor are partners, you may need to put more effort into the partnership to make it work. But that's okay since you have the most to gain.
Additionally, getting to know the staff, learning how the office works, and having a contact list to share with your medical team may be helpful. The physician assistants, registered nurses, medical assistants, and office staff can answer many of your questions, and they are the gateway to the doctor.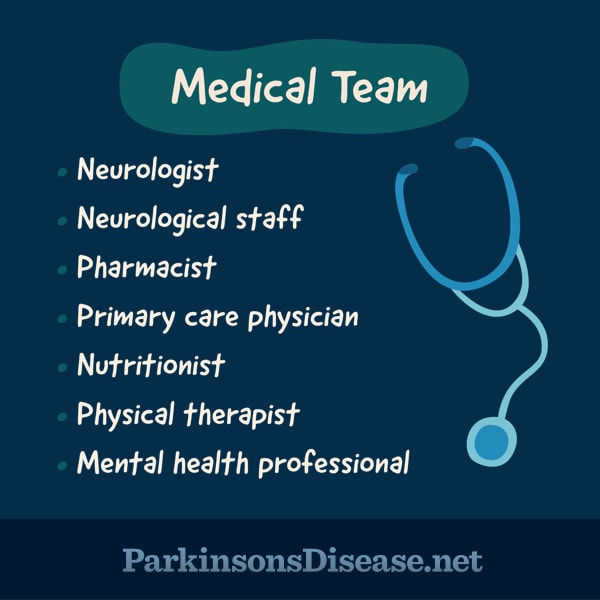 Exercise team
Exercise, many feel is our first line of offense and first line of defense against the progression of Parkinson's. It is what have to slow it down. Don't wait a day to get started. Studies suggest that exercise that is done intensely, fully, and daily will slow the progression. The great thing about exercise is that you don't have to force yourself to do exercise that you hate. There are so many options out there - you're bound to find something that doesn't feel like work. Find an exercise program you like and start now. Your exercise team could include physical therapists, fitness trainers, tai chi masters, dance instructors, and more.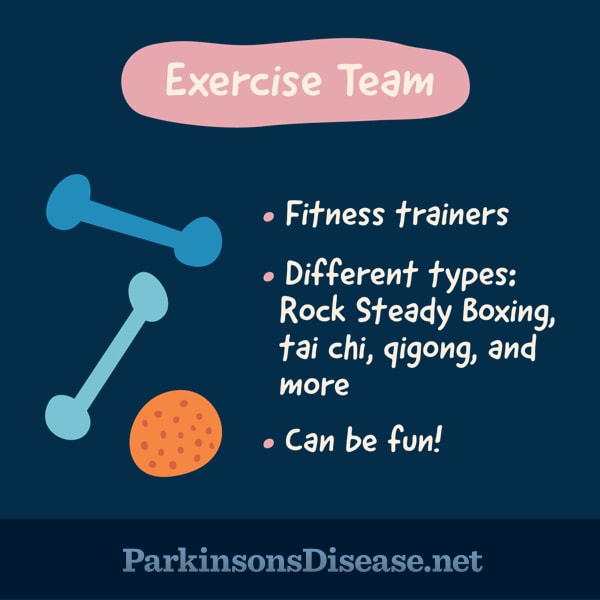 Family & friends
Family and friends are there to support you. They may need your input around how they can do that most effectively - communication is key. Family and friends are also your best "encouragers", and many times will help with care. They will help you socialize. Use them to get out there!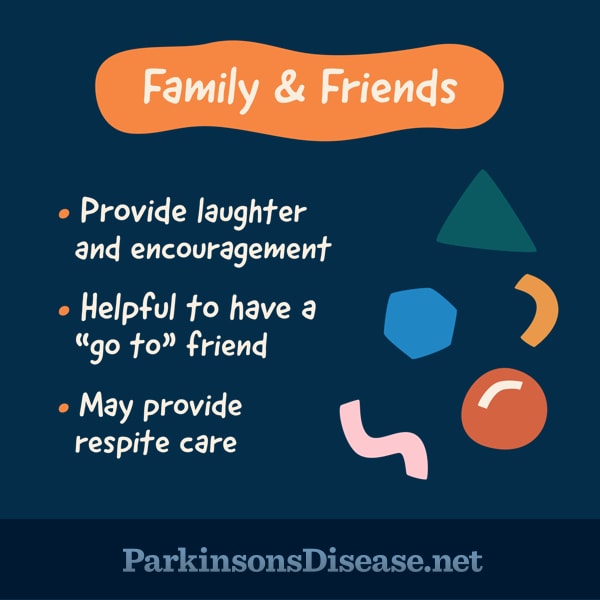 Knowledge
Although not a walking, talking member of the care team, knowledge is a huge factor in dealing with Parkinson's. It comes from every direction. It means learning all the time. Take advantage of the great resources available to us - including attending conferences, checking out websites like ParkinsonsDisease.net, listening to podcasts or webinars, and more.
Also, keeping the brain active with research, games or maybe learning a new skill may be helpful in maintaining cognitive skills.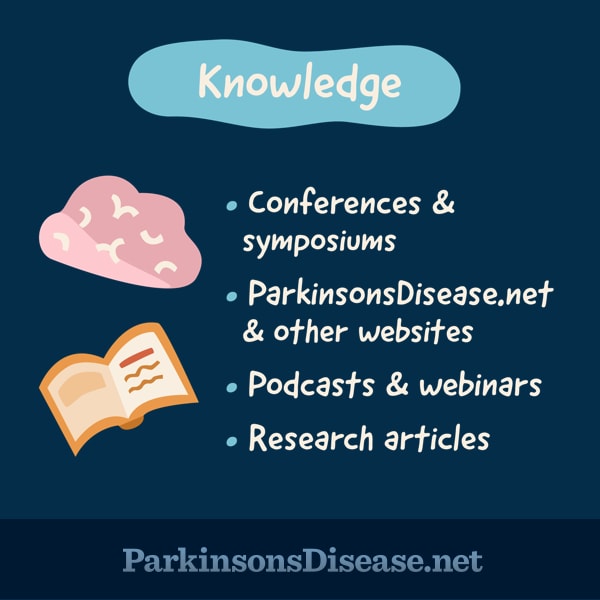 Some time during the progression of your Parkinson's your team will start to look like this.
This article represents the opinions, thoughts, and experiences of the author; none of this content has been paid for by any advertiser. The ParkinsonsDisease.net team does not recommend or endorse any products or treatments discussed herein. Learn more about how we maintain editorial integrity
here
.

Community Poll
Do you experience issues with spatial awareness?