Traveling the Rocky Treatment Path With Parkinson's
Anyone affected by Parkinson's disease knows how challenging and debilitating it can be, especially as the condition advances from early to late stage. People diagnosed with Parkinson's, as well as their care partners, often wonder what their treatment journey will look like once they learn of their diagnosis, especially given the nature of their disease.
We wanted to understand what that treatment journey with Parkinson's looks like, so we asked our community members to share their experience. For the 2019 Parkinson's Disease In America Survey, we gathered insights from:
1,411 people living with Parkinson's
309 current care partners
40 care partners of people who have died
Below are some highlights from what the survey respondents shared with us.
Parkinson's treatment experience
Oftentimes, medication is the first line of treatment for people who are diagnosed with Parkinson's. But that's not the only form of treatment offered.
Respondents who had Parkinson's felt that exercise and staying active were extremely important to help manage symptoms. Some decided to have a surgical procedure, such as deep brain stimulation, to help manage symptoms. All of these options should be discussed with a doctor prior to starting any new treatment.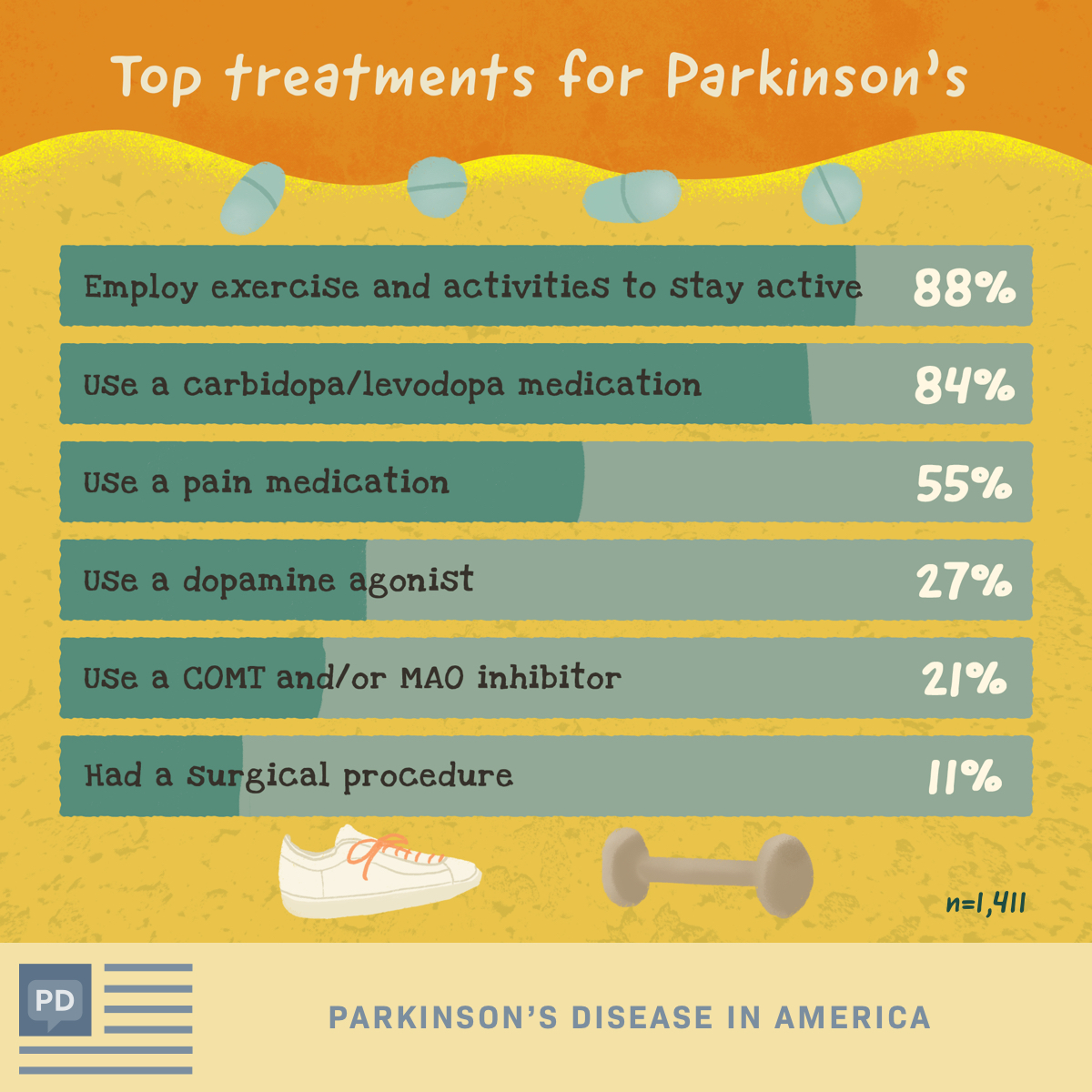 There are a number of ways to cope with a Parkinson's diagnosis beyond taking medication. Many consider these coping options part of their overall "treatment" plan. These coping methods are built into their everyday lifestyle and routine to help them feel better overall.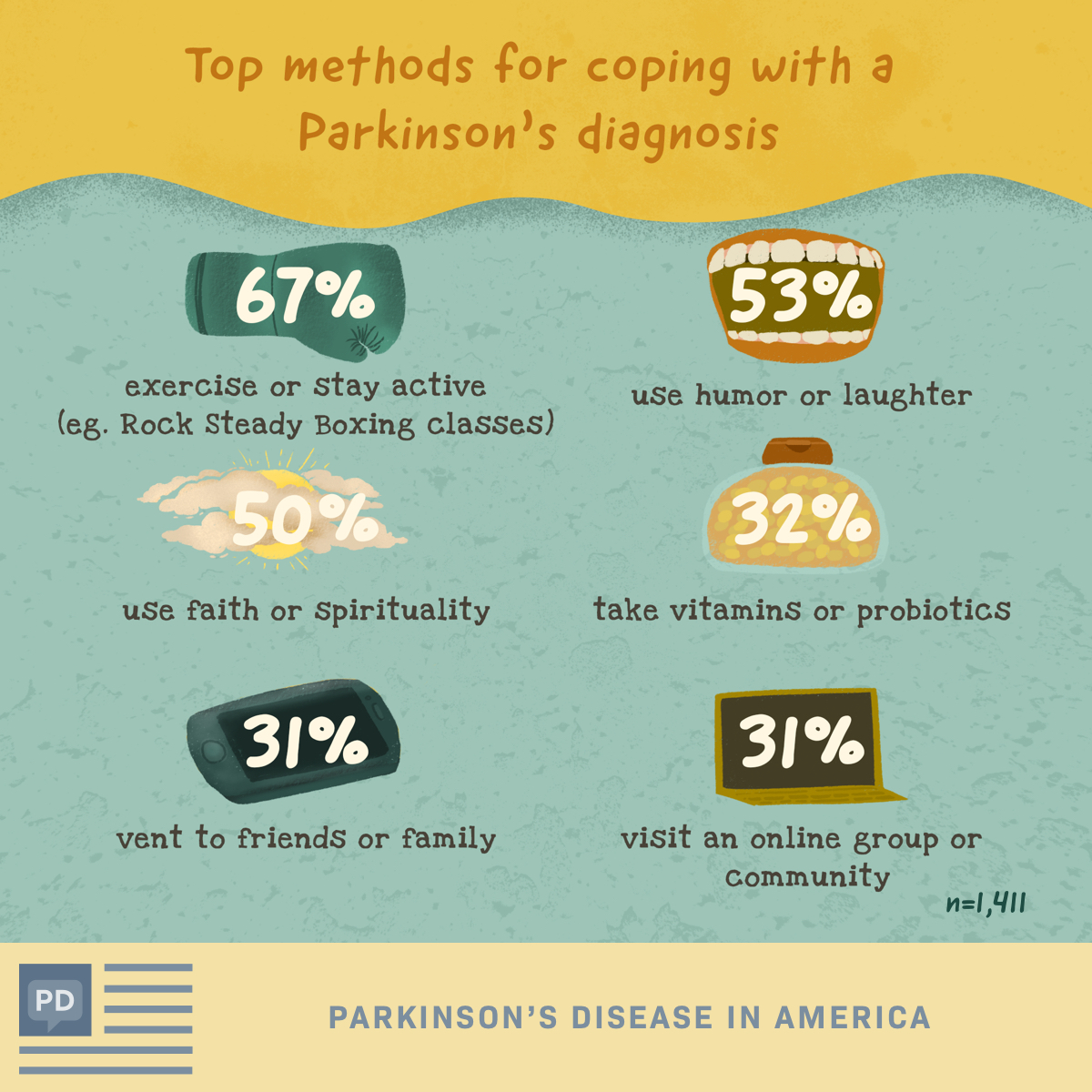 Medication management with Parkinson's
Although there are a number of options to be considered, most treatment plans will include medication as well.
Oftentimes, treatment means taking multiple medications at the same time every single day. For example, 24 percent of respondents reported taking 5 or more carbidopa/levodopa pills a day. This can be a daunting task when there are a number of medications to take, those medications are taken at different times during the day, and the person with Parkinson's may be experiencing cognitive issues, such as forgetfulness.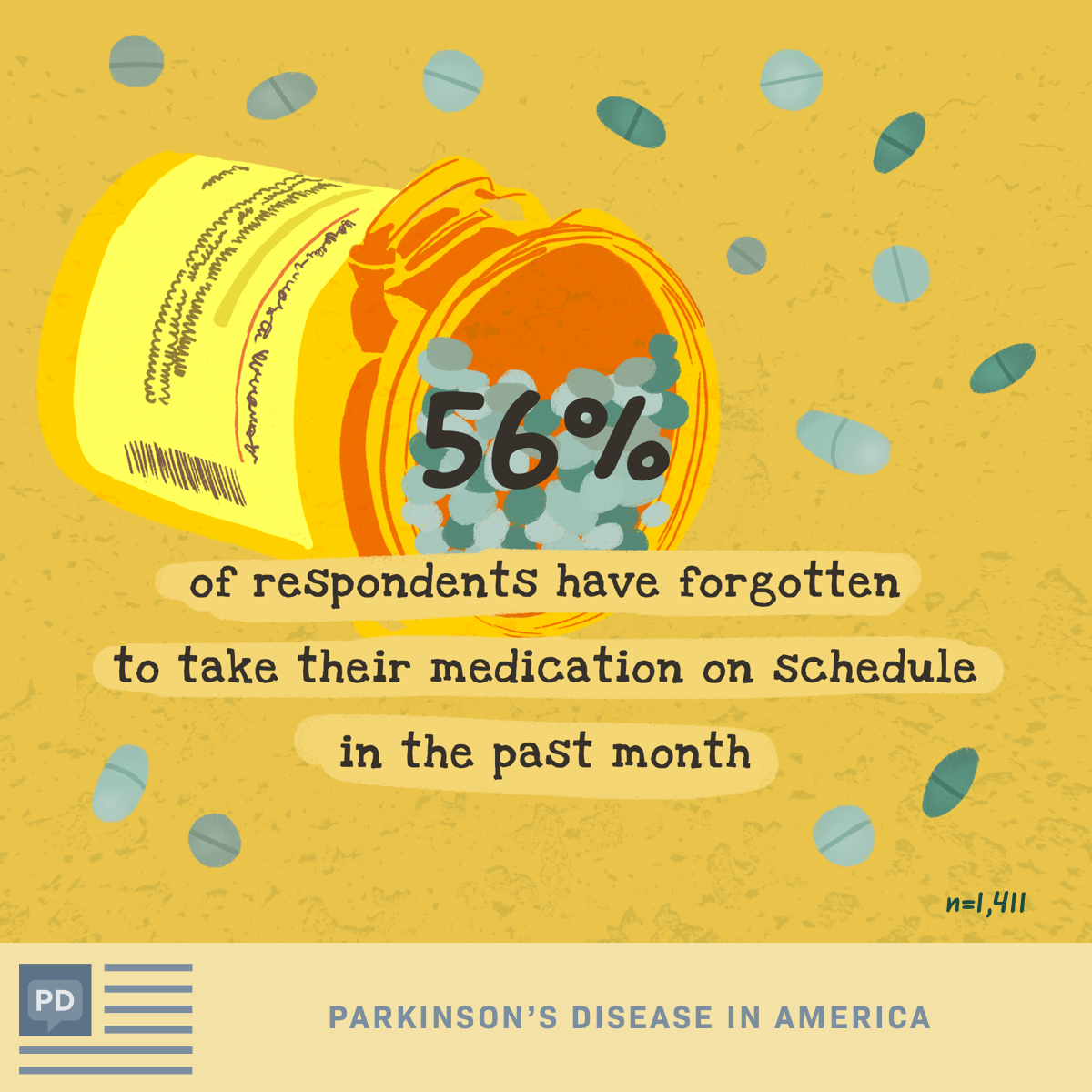 Side effects of medications
In addition to the difficult task of remembering to take medications at the same time each day, many people with Parkinson's also have to deal with side effects from those medications.
One of the most common side effects of taking carbidopa/levodopa is experiencing motor fluctuations or "off times." Another common side effect is dyskinesia, or abnormal movement of the body or limbs. Among the respondents who take carbidopa/levodopa medication:
52 percent experience motor fluctuations or "off times"
37 percent experience dyskinesia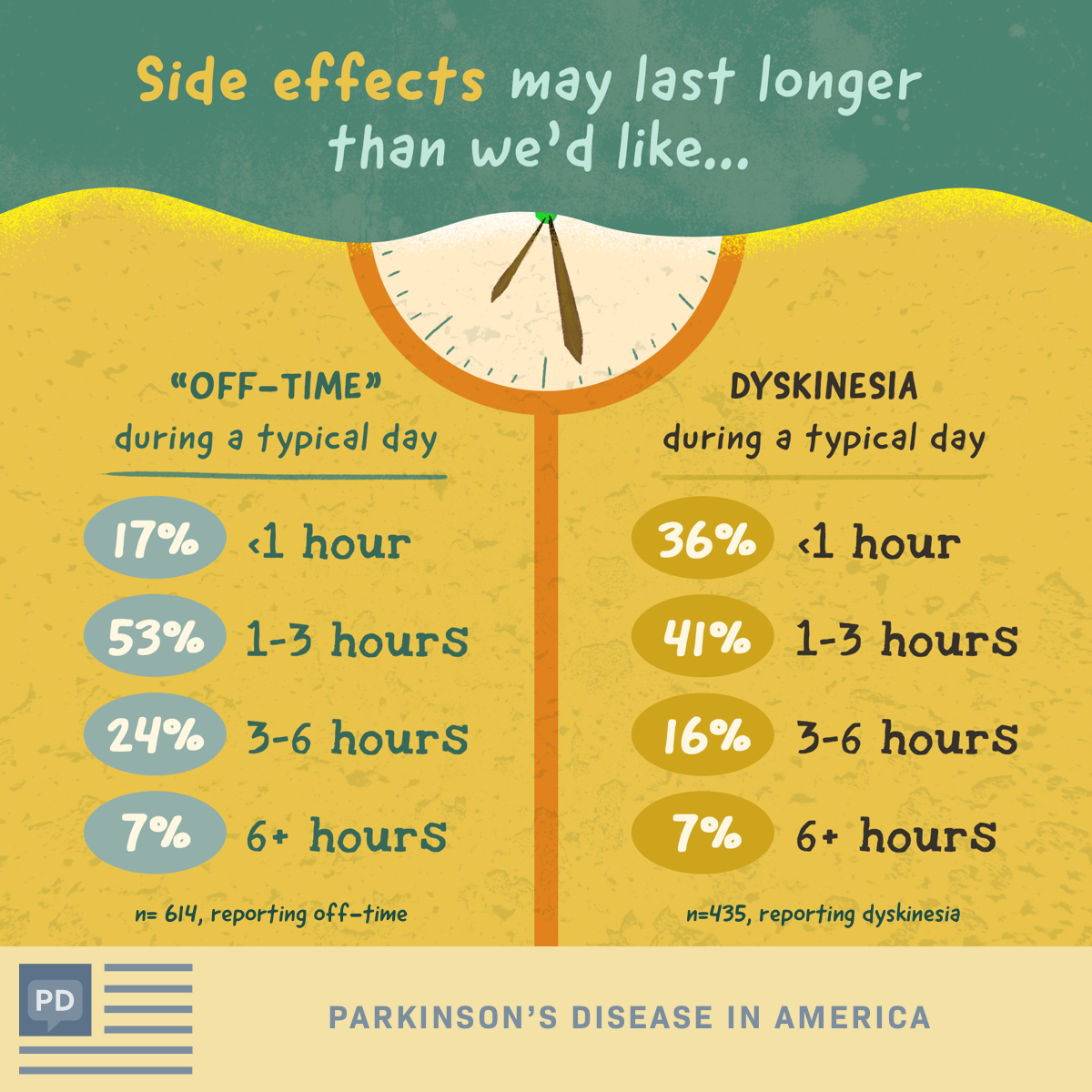 The increasing cost of medications
People with Parkinson's often take multiple medications a day, which can add up in terms of cost. Among respondents with Parkinson's:
About 21 percent felt that Parkinson's had a negative impact on finances
10 percent avoided using a medication due to cost
10 percent use a financial support program to help with costs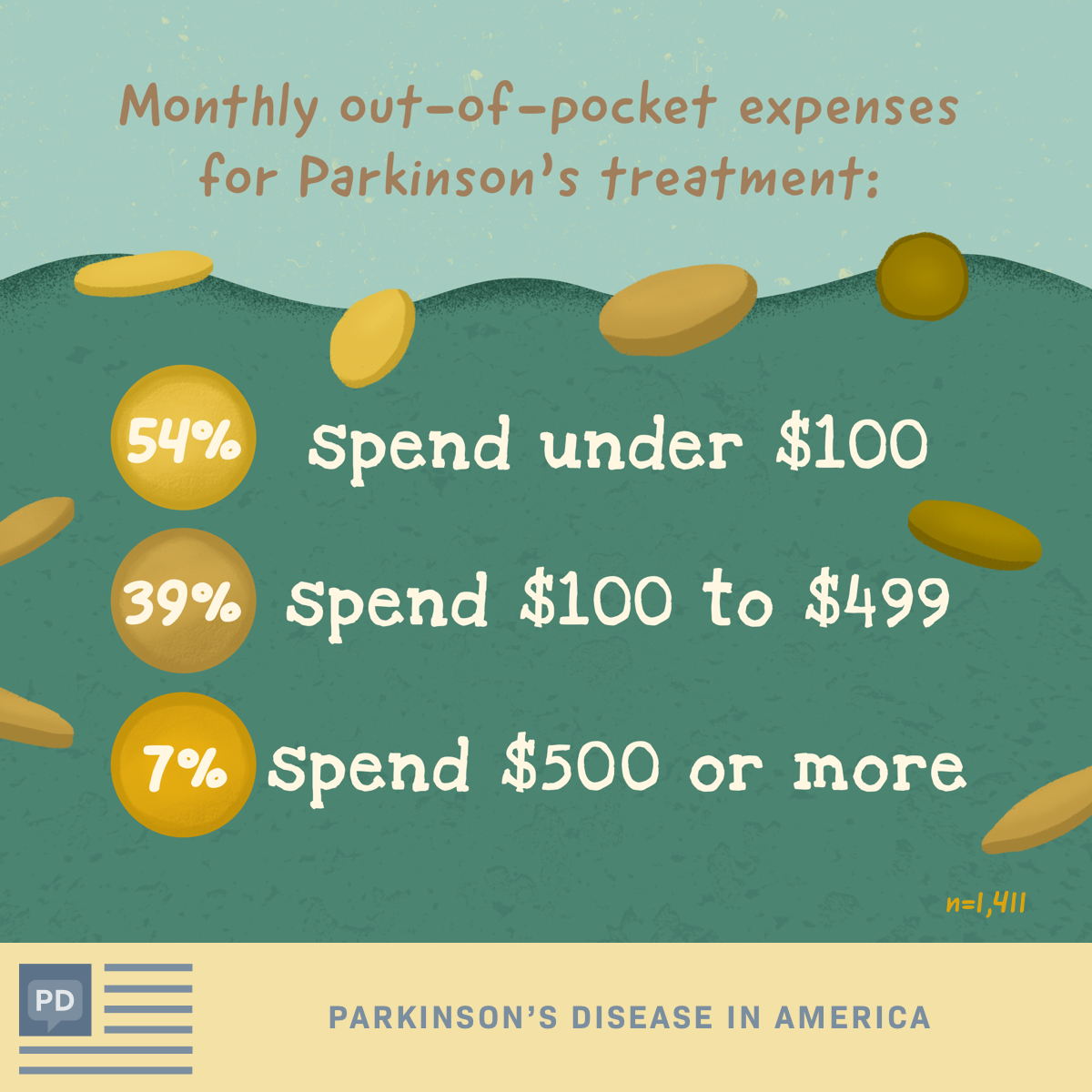 Learning more about the disease
In the past 6 months, 25 percent have gone online to read other patients' opinions of a medication and 19 percent have visited a prescription medication's website.
Here at ParkinsonsDisease.net, we provide information and support for people who are going through these treatment challenges – both on our website and on our Facebook page. There are other ways to get the information you need, including:
Speaking to your doctor
Conducting thorough internet searches
Contacting Parkinson's associations
All approaches are helpful in understanding the entire treatment journey experienced by someone with Parkinson's.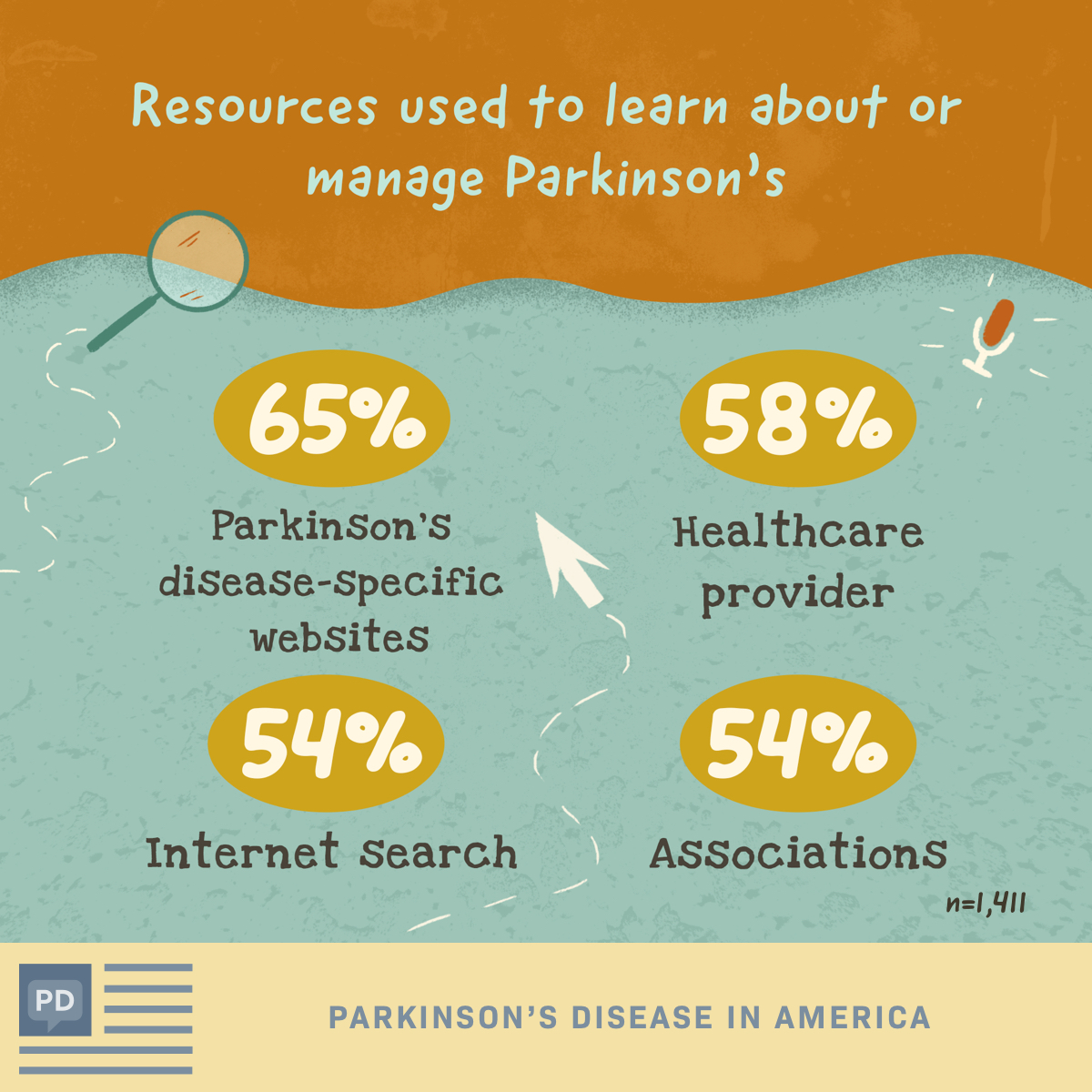 The 2019 Parkinson's Disease in America Survey was conducted online from April through July 2019. Of the 1,760 people who completed the survey, 1,411 were people who have been diagnosed with Parkinson's disease, 309 were current care partners of people with Parkinson's, and 40 were care partners of people with Parkinson's who have passed away.

Community Poll
Do you experience issues with spatial awareness?