What Does Springtime Mean To Me?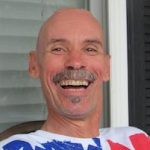 By Michael Church

·

April 24, 2018
The warm sunshine on my face. The fragrance of blossoming flowers in the air. The cool afternoon rain on my tongue. All indications that spring is here but to those of us living with Parkinson's disease (PD), spring, specifically April, is Parkinson's Disease Awareness Month. You may ask yourself, why should I care? Chances are that you have someone in your family or a friend that either has or will develop PD in their lifetime. There are over 1.5 million Americans living with this chronic disease for which there is no cure. The really tragic part of this is that number is increasing by over 60,000 newly diagnosed each year. I don't want to be a downer here, but ever since my own diagnosis in 1995 at the young age of 32, spring doesn't have the same appeal. Contrary to some people's beliefs, Parkinson's is not just an elderly disease. About 10-12 percent of diagnosis are classified as early onset with the average age of onset less than 55 years of age.
Just the facts
PD is a chronic neurological disease.
PD is progressive and slowly erodes the brain over time causing apathy, depression and suicidal thoughts.
PD causes a multitude of non-visible symptoms such as: confusion, distraction, fatigue, disorganization, failure to remember things and more.
Parkinson's affects our ability to walk, talk and swallow normally.
PD is non-discriminate. (PD affects all ethnic, economic, social, religious and gender groups around the globe.)
Parkinson's research despite its advances, is far from a cure.
What does this mean?
There is a void between the Parkinson's patient community and research for finding a cure. This is not to dispel the ongoing research or reflect negatively on doctors and researchers working to bridge that gap. Instead, I am utilizing the tools available to me to call attention and raise awareness that the more time that passes, more of my friends are fading from existence. In other words, they are dying after long fought battles with PD. Part of the problem is political, part is economical but a big part is personal investment. For me, springtime is go-time. It is a time to rally together – patients, care partners, researchers, doctors, friends, and family – to learn about this disease and how you can help make a cure possible in my lifetime so that not one more person will succumb to this devastating disease. There are all kinds of events throughout April – medical conferences, symposiums, marathons, walks, classes, fundraisers or create your own. There are any number of Parkinson's resources available online or look at your community calendar.
Why should I care?
April is Parkinson's Awareness Month and we need you! It is a great cause and you can choose from a number of events. For example, if you like to run, why not run for PD? It's a great way to get/stay in shape and raise money for a good cause. Like to dance? Dancing is outstanding for promoting movement and physical fitness. Two important things people living with PD could benefit from. There are unlimited possibilities of ways to get involved and you could literally save a life. Volunteering is one of the highest forms of human compassion and you don't even have to have Parkinson's. Getting involved can be a great example to your children and is a family friendly activity for children of any age. April is all about awareness but also education. It is a time to stop and smell the roses and put away our snow shovels, bask in the sunlight and enjoy the cool breezes that come our way. Spring time for me brings hope. Hope that a cure will be found soon. Through more awareness and education about Parkinson's Disease, hope lives on.