Parkie Like a Rock Star!
In life, there are some people who transcend the nature of what they do to become something greater. By virtue of our deep connection and respect for their thoughts/deeds/attitudes, they are a "rock star."
In who they are and how they do it, both Barack Obama and Donald Trump, while complete opposites, fit this bill. I've never been to a rally, but I see how people who have been infatuated with them react. In much the same way that the Beatles fans did when they came to America for the first time in February of 1964. They are devoted.
Our leader
For a "rock star," there are screams of joy and unlimited devotion, as fans connect to the "famous." In this, the face of Parkinson's, Michael J. Fox, was exposed to the limelight from being in the movie, "Back to the Future" and the TV show, "Family Ties". However, Michael J. Fox is more revered for his commitment to a neurological condition, Parkinson's disease is something transcendent. Like ALS is connected to Lou Gehrig, Fox is the humanization of a condition in the eyes of society. Like Steve Jobs revolutionizing Apple, Fox is the face of our experience's future (over $800 million raised to cure us).
But he's not the only one.
Fellow travelers
If someone were to perform a Chanukah Song type tribute for all of the famous people with Parkinson's, we'd have the 1988 World Series hero Kirk Gibson and his home run off Dennis Eckersley. He has a foundation, too. We would also have former President George HW Bush, Jesse Jackson, Neil Diamond, Alan Alda, and Linda Ronstadt. Despite some people's misunderstanding, we wouldn't have Robin Williams since he died of Lewy Body Dementia, not Parkinson's. We'd also have the memories of Muhammad Ali, Janet Reno, Salvador Dali, Vincent Price, Casey Kasem, Pope John Paul 2, and "the Millionaire" from Gilligan's Island (Jim Backus).
People like former PA Governor Ed Rendell are joining our team, despite how those of us who are already here want our eligibility removed.
Parkinson's Ninja
For the connection that he has created with all people, especially those of us challenged by our own Parkinson's obstacles, perhaps there is no "rock star" that is more engaging to the average Parkie than Jimmy Choi. From denial to 240 pounds and a cane, to a bad fall and then on toward a new life on NBC's "American Ninja Warrior", Choi stands tall despite shaking hands.
Choi spoke about this journey on November 17, 2018, at the Parkinson's Circle of Care Alliance event.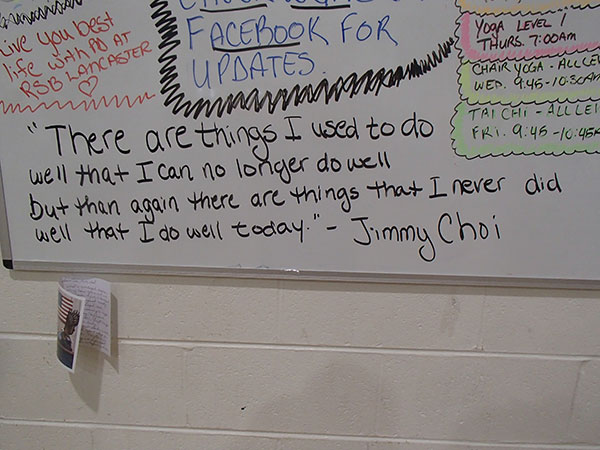 Jimmy Choi's story, if you aren't familiar, is the focal point of inspiration for many Parkies who are trying to wrestle with their symptoms. With the love of his wife Cherryl and motivation from his children, Jimmy turned nearly a decade of apathy and weight gain to abandoning his cane after getting active again. However, his journey wasn't as simple as just walking onto the obstacle course. It took a scary fall down a flight of stairs with his son Mason in his arms to redirect his life. By the way, the fall didn't injure Mason!
He started walking and moved to running, then running for distance. Eventually, he was inspired to competitively run. Now, he runs marathons and half marathons, as well as "Spartan Challenges". He's been on the show, "American Ninja Warrior" 2 years in a row, completing 3 of 6 obstacles in 2017 and 2018.
Inspiration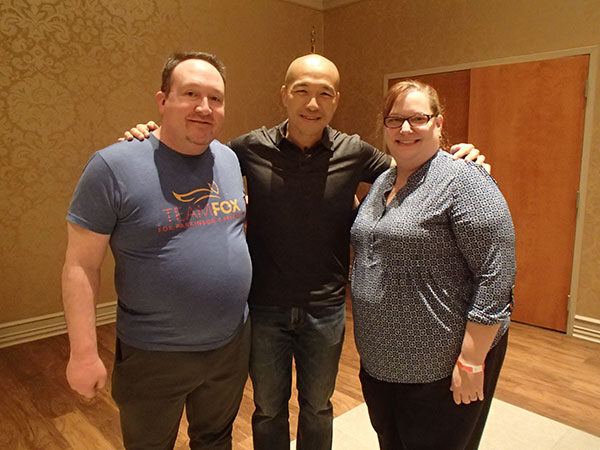 Choi is a humble spokesman for us. How can someone who introduces himself to the fans at a Parkinson's event have a rock star ego? In his presentation, Choi puts it all on the line. Whether he's talking about his troubles motivating himself now and then or doing push-ups with 100 lbs of weight on his back, he's just like us. Lady Gaga may feel connected to her "Little Monsters," but there's a distance between them even when she opens up to them, as she did in her latest documentary (such as how some fans see fame). With Choi, he's still a dad, a husband, tech executive, and guy you'd sit with at an Appleby's.
Everyone who wanted to got to "meet and greet him" instead of only a select group of people at the end. As people saw him, he would shake their hand. They talked to him like he was a family member at a holiday. He could be our brother, son-in-law, or college buddy. He made corny jokes, and we laughed. He's incredibly likable and inspiring; thus, people connect with him.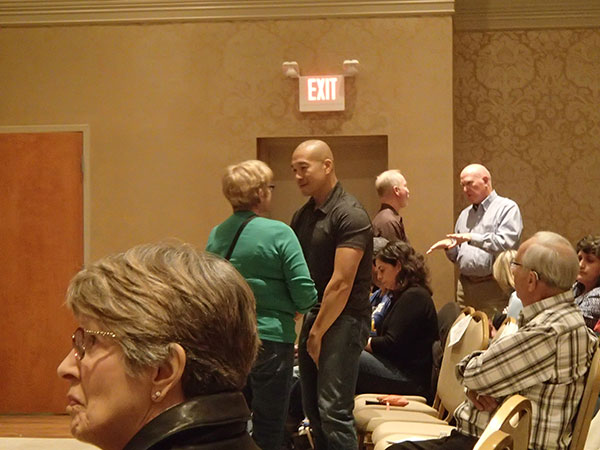 Contradictions
For his televised success, people see Choi as an outlier for what he can do. For instance, he can do incredibly athletic mid-air jumps where he grabs moving objects. However, this rock star has trouble buttoning his clothes. He also wants us to understand that the athletic skills we respect are second to how he's raised over $250,000 for Parkinson's research. Being athletic just gives him the opportunity to make a difference.
Choi also faces crowds who think that they could never do anything close to what he's doing. He knows that they still can, but the battle is in the mind.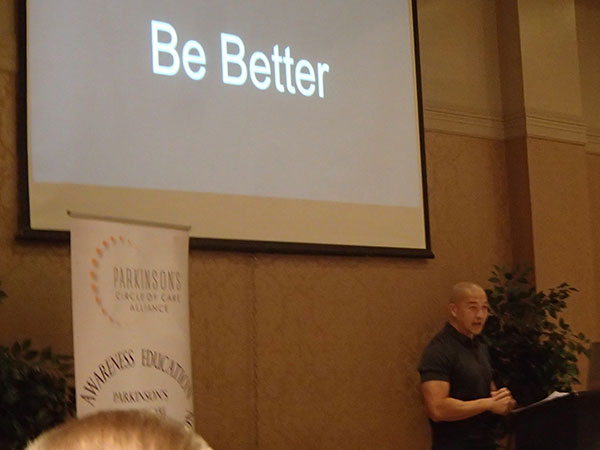 This is something he knows a little about since his daughter Karina also a Ninja Warrior had to motivate him to sign up in the first place! After Allison Toepperwein appeared on the show in 2016, Karina informed her dad that Parkinson's wasn't an excuse. He wrote an application and the rest is history. Now he's getting ready for unfinished business next year.
One more time
His first competition, he went out on a mistake. The second time, he went out from a Parkinson's issue. We can only hope the third time's a charm.
Whatever the verdict, he's definitely a winner for not letting Parkinson's defeat him. Rock on, Jimmy!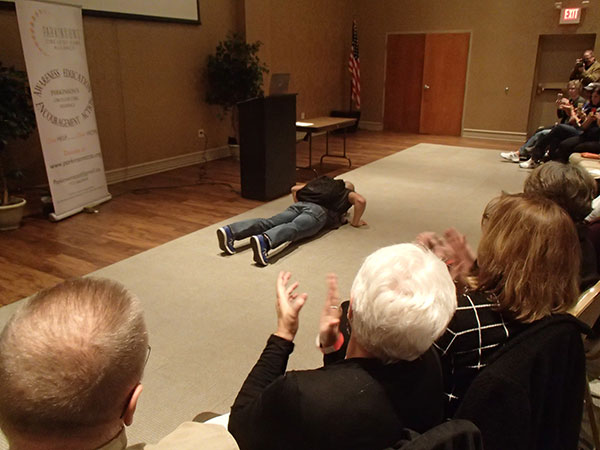 This article represents the opinions, thoughts, and experiences of the author; none of this content has been paid for by any advertiser. The ParkinsonsDisease.net team does not recommend or endorse any products or treatments discussed herein. Learn more about how we maintain editorial integrity
here
.

Community Poll
Have you or a loved one ever tried speech therapy?