It's Recess! So, Call Your Congressman
Recess! Around my house, Alice Cooper can be heard belting "school's out for summer!" I know you know the song, "School's Out!" But did you also know that is not just summer recess for students across the country? That's right! Our Representatives in Washington, DC, are heading back to their hometowns for summer recess too. If a trip to Washington is out of the question, the month of August is a great time of year to "Call Your Congressman" and advocate for Parkinson's disease!
Both houses are not in session from July 31 till following the Labor Day holiday, September 4, which means they will be returning to their local or regional offices. This is a great time to give them a call! Yes, you CAN do this! If this five-foot-tall-gray-haired-soon-to-be-53-year-old-mom-of-four can talk to a Congressman, you can too!
Where to go and what to say
In fact, talking about funding and support for Parkinson's Disease gets me chocked up every time. I decided to make it personal, and shared wedding pictures with my representative, Senator Manchin. It's true! Check out page 15 of the Michael J. Fox Foundation's Advocacy Toolkit!
Yup...that's me!
Congressional contact info
First of all, find your representative. If you are not sure of their name or how to contact them, check out "How to Contact Your Elected Officials" and give them a call.
Talking Points
What to say? Just be yourself. When I am nervous, I tend to babble on and on. Just ask Dan, my husband who was diagnosed with Parkinson's disease ten years ago when our boys were toddlers.
There are some exciting developments in Parkinson's research! I encourage you to begin today and develop a relationship with your official in Washington. Call or email them often. Keep them updated. Let them know how your are feeling.
For specific talking points, check out page Advocacy Toolkit (linked above).
Advocate for Parkinson's disease! Your story matters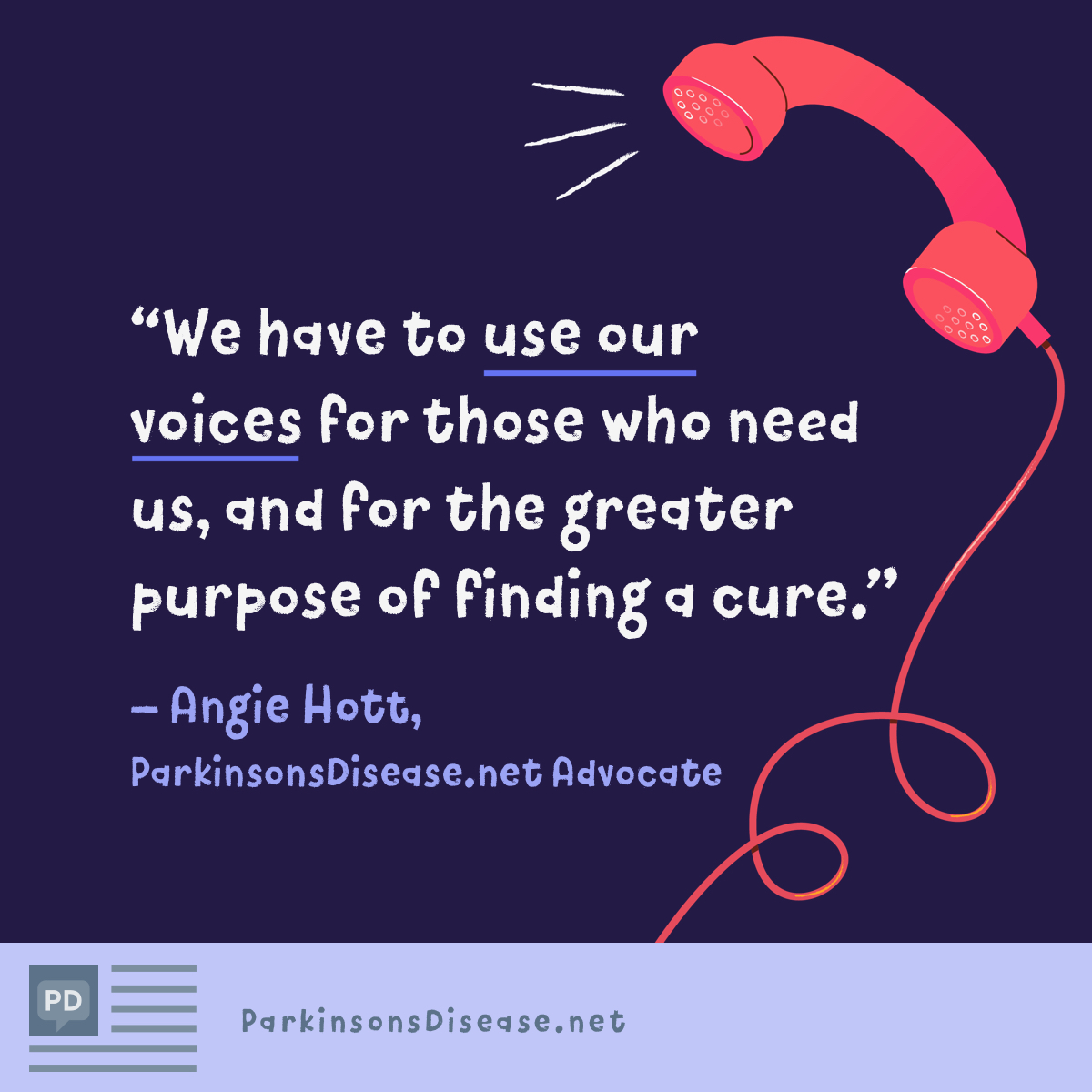 Now, go get your phone and make that call!
This article represents the opinions, thoughts, and experiences of the author; none of this content has been paid for by any advertiser. The ParkinsonsDisease.net team does not recommend or endorse any products or treatments discussed herein. Learn more about how we maintain editorial integrity
here
.

Community Poll
Have you ever tried the Mediterranean Diet?