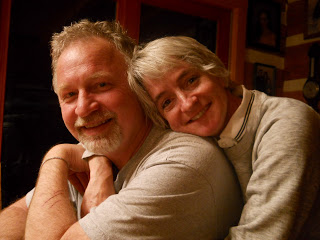 Angela began as a patient advocate on the ParkinsonsDisease.net community, and expanded her role at Health Union to a community lead.
Angie Hott, while enjoying raising her young, large family, was busy being a mom, wife, and community church volunteer when Parkinson's disease (PD) came knocking on her door. She suddenly found her young husband, Dan, at home on an unexpected and surprising "early retirement". Now, as an advocate for PD research and working as a character values facilitator in the local schools, she shares her stories about faith, family, fun, and crazy days with PD on Hott Mountain, West Virginia. She is hoping her experiences will connect other young families and inspire the next generation to help and cure PWP.
Realizing that a cure cannot come quickly enough for her young boys to ever remember their healthy father and freaking out at the scenes she was finding in the waiting rooms of neurologists packed with primarily older patients with advanced symptoms, Angie began blogging her stories at the suggestion of her then college-age daughter, Caity, on Excuse Me, Can I Tell You Something?. Now, she works for the Morgan County Partnership where she teaches Positive Actions and Character Education to 400 students and provides daily vlogcasts. Angie has a BA in Theater Arts from the University of Massachusetts, Amherst, and over the years has been a teacher, Arts Integration Administrator, and Theater Manager. Currently, she is writing a book called "Memoirs of a Hott Mama", which shares their family Parkinson's story.
Now, Angie continues to support Dan as he approaches DBS (Deep Brain Stimulation) surgery and enters a new chapter with Parkinson's disease. Their kids are a little older. In fact, Violet is about to enter Columbia to study, guess what?!….neuroscience! Dan and Angie advocate together for policy and funding for research. Additionally, Angie continues to work in the community advocating for STEAM education (science, technology, engineering, arts, and mathematics) in hopes that their life with PD will inspire tomorrow's innovators, scientists and engineers today.
Click here to read all of Angie's articles on ParkinsonsDisease.net.