Parkinson's & Improvisational Theatre
In 1998 I didn't really know much about Parkinson's disease but sadly learned that year when Michael J Fox was diagnosed with PD. A few months later, my dad, Captain Ivan Escott at 79, years old was diagnosed with PD and I began my journey learning about and living with PD.
Getting involved
At first, we hadn't noticed anything amiss until a golfing buddy, a physician, watched Dad and said "You may have Parkinson's disease." Ivan saw a wonderful neurologist here in Naples, Florida and although a PD diagnosis is based on observation, Dr. Campbell confirmed this. For several years, Dad was able to continue his great life. A retired airline captain and avid golfer, he had many friends here.
We both joined a local Parkinson's association that year. Dad and I both served on the board and attended many functions.
As an MSW and psychotherapist I saw the value of humor, laughter, and play in my patients' lives and began doing workshops around the country on "The Healing Power of Laughter and Play."
I was invited to speak on the importance of laughter and play at many of our Parkinson's Association's luncheons and gatherings. I also began seeing patients with PD and their care partners in my private practice. I continue to do so today.
Noticing disease progression
But one day, while Dad was trying to punch in the code at my gated community, he just couldn't do it. For almost 40 years he piloted jet planes, with complicated systems around the world yet couldn't remember a 4-digit code.
Our family realized that his disease was progressing. My husband and I moved into his home to care for him. I was determined to keep him in his home with familiar surroundings. With my husband's help, that's what we did!
My dad had a great sense of humor and was always fun to be around. As his dementia grew worse, we saw that he needed more socialization than just being home glued to the TV. My wonderful husband took a hiatus from work and was Dad's full-time care partner. We found a fantastic senior day program that would be just great for Dad. Initially, he was very reluctant to go and be with a "bunch of old people" but after several months of balking, we came up with a strategy that worked. We assured him that he was needed to teach a class and he eventually looked forward to going. This wonderful center had little performances and Dad was featured in "Gilligan's Island" as Thurston Howell III!
Dad passed away on April 3, 2007. He suffered from Lewy Body disease at the time of his death.
He died peacefully at home, and it was an honor to be with him in his last moments.
Improvisational theatre for Parkinson's
A few years later I began my journey with Improvisational Theatre and was teaching improv to various groups with issues like anxiety, learning disabilities, and children on the Autism spectrum. This is called Applied Improv and there is now a group, Applied Improvisation Network with over 8,000 participants online and across numerous regional and local groups.
I began teaching persons with PD and care partners Improvisational Theatre games and exercises. I've been teaching Improv for PD for over 8 years. In the beginning, we met in person but since the pandemic, we play online with folks from all around the country.
Improv helps folks with PD in so many ways. The games present challenges, which produce a mild amount of anxiety and discomfort. This helps to produce dopamine, so essential for those with PD.
Basic improv principles
The basic principles of Improv are inclusion, acceptance, and fun. The easy games we teach also generate laughter which produces endorphins, the "pleasure" hormones, that aid in decreasing anxiety and depression, two very common mood disorders in PD and their families.
Improv also has cognitive benefits as it increases listening and communication, instills creativity, and social engagement. One of the issues for those with PD is social isolation due to many factors. The improv skills they learn help overcome those fears of not being able to recall a word or appearing different to others. In these classes positive relationships are formed and the goal is to support each other and have fun!
I've been working with other Parkinson's associations over the years teaching workshops on improv and mindfulness.
My first group started several years ago and is a weekly Saturday class with students who've been doing improv for several years. Saturdays are the highlight of each week.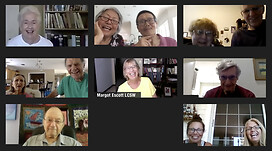 This article represents the opinions, thoughts, and experiences of the author; none of this content has been paid for by any advertiser. The ParkinsonsDisease.net team does not recommend or endorse any products or treatments discussed herein. Learn more about how we maintain editorial integrity
here
.

Community Poll
Do you experience issues with spatial awareness?