An Interview with Pickleball Instructor Deonna Shake
"Pickles! Pickles, bring back that ball right now!"
I smile thinking of a dog named Pickles. It is not just his name that amuses me, but the fact that a game was named after him because that crazy little dog would steal the ball every chance he got.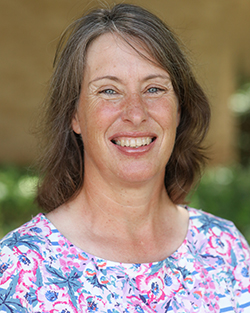 First known affectionately as Pickle's Ball, this cross of tennis, ping pong, and badminton quickly became known as pickleball, a game that everyone could play - including persons with Parkinson's disease (PD).
Deonna Shake, a fitness instructor and former basketball coach, began playing pickleball in 1983. She was first a student and then a teaching colleague of Dr. Joyce M Curtis, author of the original instructional book, Pickle-Ball for Player and Teacher. Deonna has taught the game for 22 years and shares her knowledge and passion for pickleball in this interview.
Why play pickleball?
Pickleball is a competitive and recreational sport. It offers enjoyment for people of all ages, sizes, and skill levels. The game is easy to learn and offers many social, mental and physical benefits.
Since pickleball needs 2 to 4 players, it offers a built in social component. Besides bantering during play, I have seen some of the most meaningful conversations happen before, between, and after games. In short, Pickleball builds community.
Even though I have taught many different sports over the years, it never gets old to see people take on the physical and mental challenges of learning a new game. Pickleball players need to learn basic techniques, the rules, game etiquette, and how to keep score.
The more they play, the more they grow to understand winning tactics and strategies. I love hearing my college students shout when a strategic shot wins a game.
Physical benefits include improving hand-eye coordination, agility, and reaction time. Pickleball, like other forms of cardio exercise, is good for maintaining a healthy cardiovascular system, but also contributes to slowing the progression of PD. In short, Pickleball is fun and good for you!
What equipment is needed?
I am happy to say that equipment is minimal and readily available so it is quick and easy to step on the court and play. The basics are a paddle and a ball. Many facilities offer equipment for use at no or low cost. My recommendation is to try demo paddles before you buy.
Where do you play?
You can play indoors and/or outdoors at many recreational centers, tennis facilities, schools, country clubs, resorts, and cruise ships.
Believe it or not, the Chicken N Pickle, a restaurant chain founded in 2016, features indoor and outdoor courts for their diners. You might even know a pickleball enthusiast who has a home court near you.
Do you encourage people with PD to try?
Absolutely! I know quite a few people with PD in my community. I love seeing them exercising where I work and encourage them to keep moving.
I invite them to one of my pickleball classes and have been known to offer introductory pop-up experiences when there is open time in the gym.
I would definitely recommend it as a game for persons with Parkinson's who are searching for a new and fun activity. As with any exercise, each person should receive clearance from his/her physician before beginning to play.
Anything else you want to share?
I love that pickleball has been chosen for the Special Olympics in several state-level regions. I am excited about the game's growth spurt in recent years. The last I heard it is the fastest growing sport in the US and I see no signs of it slowing down where I live.
Players, including those with Parkinson's, must be getting something out of the game. I know I do, and I encourage you to find a pickleball court near you, but you might want to leave your dog at home.
This article represents the opinions, thoughts, and experiences of the author; none of this content has been paid for by any advertiser. The ParkinsonsDisease.net team does not recommend or endorse any products or treatments discussed herein. Learn more about how we maintain editorial integrity
here
.

Community Poll
Do you or a loved one use smartphone apps to help with PD management?