New Year with Parkinson's: Words Worth Living in 2020 & Beyond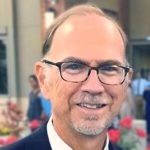 By Frank Church

·

January 10, 2020
As we began a new decade of life with Parkinson's disease (PD), this post is to help you to take charge and keep moving forward each day.
Life with Parkinson's can be better if lived in the moment
Your life with Parkinson's is balanced by "good/on" and "bad/off" moments. The combination of the disorder and our long-term treatment strategies lead to this wide range of reactions. Two examples of trying to live within the moment:
You are at the grocery store, and it is late in the afternoon, you are tired. It is taking longer than usual to remove your wallet from your pocket. The check-out line is long, and you get more stressed. You turn inward for a second, breathe in and out deeply, and calm your nerves. You are in that moment, and the wallet easily comes out of your pocket.
You are getting into your car, your back is stiff. It is taking longer than usual to get your seatbelt over and around and buckled. The parking lot is full, and people are waiting for that parking space. Again, the stress in your life just peaked, but you again focus your mind, think inward to something that makes you smile and relax. And once again, the buckle goes in, and you can leave the parking lot.
You just practiced mindfulness; you just calmed your symptoms for a few seconds because you had focused your mind either on your breathing or that pleasant thought, respectively.
Mindfulness
"Oh my, where is he going with this narrative?" Stay with me for another minute, please. Mindfulness means you are staying within your breath and aware only on the current moment. You have lost the previous moment, and you have no plans for the next moment. Only the present moment exists. Mindfulness cares only about the current moment, and it restores calm to your body. The words of Thich Nhat Hanh give you a clue as to how to use mindfulness: "Mindfulness is the miracle by which we master and restore ourselves."
"Literary mindfulness"
I have always believed in the positive impact of mindfulness to deal with the daily obstacles presented by Parkinson's. Furthermore, I also believe in what I call "literary mindfulness" to smooth out the rough edges of life in the presence of Parkinson's.
Literary mindfulness is reading something and entering the mindset of what you're reading, then pausing to think about it, and finally, getting into that moment. Our disorder may lead to moments of negative thoughts or times of increased doubt. Because of this, it would be perfect to take the time to read some of the quotes below, get within yourself, and be with the moment. Alternatively, just reading the quotes below may reinforce or bolster your strength and courage for the day as you deal with your disorder.
Words worth reading and living in the presence of Parkinson's
The current post revolves around quotes for these words: hope, positivity, adversity, persistence, life, and a final category of dealing with illness during an off-period.
Maybe you are thinking, how are we supposed to read all of these quotes? I do realize it is a lot of words. There is no one way or right way to go through the collection of quotes presented below. You can take it day by day. On the first day, read the quotes related to 'hope,' think about them, reflect, and get within that moment. Maybe you are having an especially stressful day, so go to the last section and read these quotes that deal more so with illness. See if these words calm your mind.
One reader once told me that she printed out all of the quotes and cut them up individually as bookmarks in magazines and books for her husband (who has Parkinson's). He then had a different quote to view and think about as he read daily.
Hope
"Once you choose hope, anything's possible." Christopher Reeve
"The thought of hope is the seed to healing." Shilpa Menon
"What oxygen is to the lungs, such is hope to the meaning of life." Emil Brunner
Find a place inside where there's joy, and the joy will burn out the pain." Joseph Campbell
"Stay hopeful, persistent, and positive. Yes. Yes. Yes." Frank C. Church
Positivity
"Because you are alive, everything is possible." Thich Nhat Hanh
"With everything that has happened to you, you can either feel sorry for yourself or treat what has happened as a gift. Everything is either an opportunity to grow or an obstacle to keep you from growing. You get to choose." Wayne Dyer
"Positive anything is better than negative nothing." Elbert Hubbard
"Every day may not be good, but there is something good in every day." Alice Morse Earle
"Each day we wear a cape on our back labeled with the letters PD. Each day we bring a positive reaction to handle our symptoms, I am convinced we begin to fade those letters; we begin to gain control of our symptoms." Frank C. Church
Adversity
"Adversity is like a strong wind. It tears away from us all but the things that cannot be torn, so that we see ourselves as we truly are." Arthur Golden
"You may encounter many defeats, but you must not be defeated. In fact, it may be necessary to encounter the defeats, so you can know who you are, what you can rise from, how you can still come out of it." Maya Angelou
"Out of suffering have emerged the strongest souls; the most massive characters are seared with scars." Khalil Gibran
"And once the storm is over, you won't remember how you made it through, how you managed to survive. You won't even be sure, whether the storm is really over. But one thing is certain. When you come out of the storm, you won't be the same person who walked in. That's what this storm's all about." Haruki Murakami
"As always, stay focused and determined; strive for health and strength." Frank C. Church
Persistence
"Courage doesn't always roar, sometimes it's the quiet voice at the end of the day whispering I will try again tomorrow." Mary Anne Radmacher
"Strength does not come from winning. Your struggles develop your strengths. When you go through hardships and decide not to surrender, that is strength." Arnold Schwarzenegger
"Nothing in the world can take the place of persistence. Talent will not; nothing is more common than unsuccessful men with talent. Genius will not; unrewarded genius is almost a proverb. Education will not; the world is full of educated derelicts. Persistence and determination alone are omnipotent." Calvin Coolidge
"You never know what's around the corner. It could be everything. Or it could be nothing. You keep putting one foot in front of the other, and then one day you look back and you've climbed a mountain." Tom Hiddleston
"Staying persistent is creating new options, and it continually requires the courage of one's convictions." Frank C. Church
Life
"I choose to make the rest of my life the best of my life." Louise Hay
"Life is like riding a bicycle. To keep your balance, you must keep moving." Albert Einstein
"The body achieves what the mind believes." Jim Evans
While I am alive, I intend to live." Everett Ruess
"Today renew your lease for the rest of your life, enjoy it (get up, get out, get going)." Frank C. Church
Dealing with illness during an "off-period"
"Sometimes you will be in control of your illness and other times you'll sink into despair, and that's OK! Freak out, forgive yourself, and try again tomorrow." Kelly Hemingway
"Courage is not having the strength to go on; it is going on when you don't have the strength." Theodore Roosevelt
"Every day you may make progress. Every step may be fruitful. Yet there will stretch out before you an ever-lengthening, ever-ascending, ever-improving path. You know you will never get to the end of the journey. But this, so far from discouraging, only adds to the joy and glory of the climb." Winston S. Churchill
"Everyone is handed adversity in life. No one's journey is easy. It's how they handle it that makes people unique." Kevin Conroy
"One who gains strength by overcoming obstacles possesses the only strength which can overcome adversity." Albert Schweitzer
"Just remember, you can do anything you set your mind to, but it takes action, perseverance, and facing your fears." Gillian Anderson
"Please be patient with me. Sometimes when I'm quiet, it's because I need to figure myself out. It's not because I don't want to talk. Sometimes there are no words for my thoughts." Kamla Bolaños
"If opening your eyes, or getting out of bed, or holding a spoon, or combing your hair is the daunting Mount Everest you climb today, that is okay." Carmen Ambrosio
"Some days are better, some days are worse. Look for the blessing instead of the curse. Be positive, stay strong, and get enough rest. You can't do it all, but you can do your best." Doe Zantamata
"Sometimes the smallest step in the right direction ends up being the biggest step of your life. Tip Toe if you must, but take a step." Naeem Callaway
"Behind every chronic illness is just a person trying to find their way in the world. We want to find love and be loved and be happy just like you. We want to be successful and do something that matters. We're just dealing with unwanted limitations in our hero's journey." Glenn Schweitzer
"We need to embrace the attitude of never giving up, never giving in, never yielding to the slowly evolving menace named Parkinson's." Frank C. Church
"Be grateful for what you have, not bitter for what is missing; use gratitude for those who helped you along your journey because you were not alone." Frank C. Church
"Tenacity is the degree you are able to persist in your encounter with Parkinson's and to relentlessly stay focused and poised in this fight (okay, let's call it a quest) against this disorder." Frank C. Church
This article represents the opinions, thoughts, and experiences of the author; none of this content has been paid for by any advertiser. The ParkinsonsDisease.net team does not recommend or endorse any products or treatments discussed herein. Learn more about how we maintain editorial integrity here.