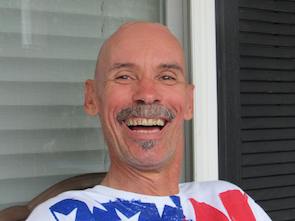 Michael was previously a health leader on ParkinsonsDisease.net.
Michael J Church was diagnosed with Parkinson's Disease (PD) at the age of 32. He was surprised at the diagnosis at such a young age. Typically, PD is found in older adults but has been discovered among a younger population of people. This diagnosis would have life altering changes and lead to some tough decisions that has allowed him to overcome many of the challenges associated with this disease.
Michael has successfully kept one step ahead of Parkinson's through his public policy advocacy and education by attending conferences and seminars and learning as much as he could. Although he would never say PD has been a blessing, he has been blessed in many ways through his worldwide network of those living with PD. He, along with his wife of 10 years who also has PD, has received several recognitions and acknowledgments across the spectrum of PD organizations and his peers.
Michael is eager to share his life experiences of living well with Parkinson's Disease and how to maintain a positive attitude when your body is saying something different. There is life with Parkinson's Disease and the part of the journey to successfully living with PD is discussed here.
Click here to read all of Michael's articles on ParkinsonsDisease.net.