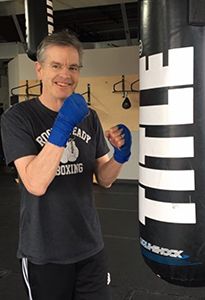 John Bennett age 63 became a member of the Parkinson's community when he was diagnosed in 2010. In 2016 he retired after spending 34 years teaching as a professor of marketing at four institutions the last being the University of Missouri. He looks forward to sharing his journey as a "parkie" in the future and contributing to the discussion of PD.
John is married to Linda for 38 years, who is also a retired professor. They have two children, JJ and Julie, and two grandchildren and are expecting their third grandchild in September. John enjoys reading, drawing, going on bike rides with his wife, doing yoga, traveling internationally, and participating in a Rock Steady Boxing class for persons with PD. He knows the importance of staying active and maintaining a positive attitude when living with PD.
To treat dyskinesia which had become disabling, John underwent DBS as part of a clinical study at the National Institutes of Health. He has participated in other clinical trials at NIH and the Michael J Fox Foundation and understands the importance of participating in clinical trials to advance knowledge of PD and, hopefully, find a cure.
Click here to read all of John's articles on ParkinsonsDisease.net.