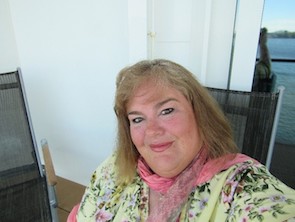 Gretchen was previously a health leader on ParkinsonsDisease.net.
Gretchen Church was diagnosed with Young Onset Parkinson's Disease at 32 years old. 17 years later she is still going strong. 15 years ago she met and ultimately married Michael Church another contributor to Parkinsons.net who also has YOPD. Gretchen also is a contributor for Migraine.com having dealt with Chronic Migraines for 30 years.
Gretchen and Michael have a unique perspective of being both patient and caregiver. Having raised a family of 5 children (1 of her own + 4 stepchildren) together, they are now enjoying their 5 grandchildren. Gretchen and her husband have also undergone Deep Brain Surgery that allowed for some further quality of life regarding Parkinson's disease. Their doctor lovingly refers to them as the "Bionic Couple".
Family, Faith & Humor play major parts in Gretchen's life, as well as staying active in the Parkinson's Community in the U.S. and globally. Speaking at conferences, attending and presenting at all 3 World Parkinson Congress's, and working with other organizations to bring about awareness and better understanding of PD, including being the State Directors for the state of Florida for the Parkinson Action Network for 15 years. In 2003, the couple founded their own organization, Movers & Shakers, an advocacy and education organization for Parkinson's. Gretchen and her husband are authors of the book, Living Well with Parkinson's Disease, and have received numerous accolades for her outstanding advocacy work in the Parkinson's Community.
Click here to read all of Gretchen's articles on ParkinsonsDisease.net.