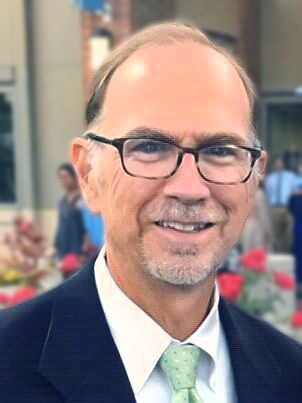 Frank Church is a Professor of Pathology and Laboratory Medicine at the University of North Carolina at Chapel Hill (UNC-CH) in the School of Medicine. After several years of trying to sort out various health issues, Frank received his diagnosis of Parkinson's in early 2014 at the age of 60 years old. The blog entitled "Journey with Parkinson's" describes his life with Parkinson's. He recently published Church, F.C. (2017) "A Parkinson's Reading Companion,". His diagnosis of Parkinson's, combined with his career in science and education, allows him the ultimate teachable moment. The overall goal of his writing is to translate the complexity of the medical and biological aspects of Parkinson's to a more familiar voice and to give encouragement, along with information and other resources, to anybody with Parkinson's or related neurodegenerative disorders.
Frank has taught at UNC-CH for more than 30 years, he teaches medical students and undergraduates. He has received several University-wide teaching awards, the Tanner Award for Excellence in Undergraduate Teaching (1999 and 2005); in Teaching Graduate Students, Pathology & Lab Med., School of Medicine (SOM) (2006); the 2nd Year Basic Science Course Award for Hematology-Oncology in the SOM (2007). He received the Fred Dalldorf Award for Excellence in Teaching Health Affairs, Pathology & Lab Med., SOM (2012). He is a "Teaching Champion" in the SOM (2012-pres.). He received the Foundation Phase TEC Basic Science Course Award, Hematology-Oncology, Course Co-Director, UNC SOM (2015 and 2018). He presented the Richard H. Whitehead Lecture (2016), which is among the highest honors for faculty members at the UNC-CH School of Medicine.
Frank's research focused on serine proteases and serine protease inhibitors; the pathological process he studied was venous thrombosis (blood coagulation and fibrinolysis. More recently, he has turned his attention to Parkinson's disease. He is finishing up the first paper that will be submitted for publication: Reuland, C.J. and F.C. Church. "Synergy Between Plasminogen Activator Inhibitor-1, Alpha-Synuclein, and Neuroinflammation in Parkinson's Disease." Finally, he studies Educational Strategies, and he is preparing to submit several papers for publication.
Click here to read all of Frank's articles on ParkinsonsDisease.net.