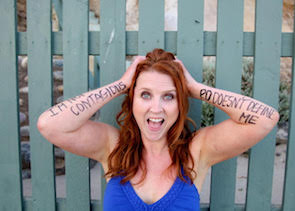 Allison was previously an advocate on ParkinsonsDisease.net.
After surviving Colon Cancer at age 24, Allison was diagnosed with Parkinson's disease when she was 32 years old. Three years of hiding the symptoms of her illness, with the support of her medical team, she decided to undergo Deep Brain Stimulation surgery (DBS).  It was at that time when she made a choice to take the negative and turn it into a positive by giving back to families who struggle with neurological deficiencies.  In 2010, Allison launched the program Parkinson's in Balance which offers support groups, fitness classes and events at no cost to the community.  Then in 2013, Allison started The Perky Parkie Blog, with the hopes of expanding her reach into the Parkinson's community.   
Allison is a California Licensed Marriage and Family Therapist with an emphasis on chronic illness, chronic pain, health and fitness. She is a Certified Wellness Life Coach who partners with individuals and families who are challenged by health issues. Allison is a personal trainer certified through National Academy of Sports Medicine and holds a certification in Parkinson's PWR! Moves.
Click here to read all of Allison's articles on ParkinsonsDisease.net.