Hospitalization in the COVID-19 Era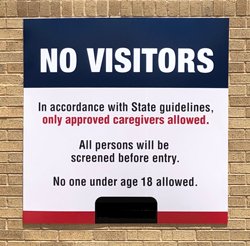 My spouse had a weekend visit to the emergency room last month and was admitted to the hospital. It was disconcerting to see the large No Visitors sign as I drove up. I stopped to read it more carefully as we walked into the ER and was relieved that one approved caregiver was permitted to be with the patient. Everyone entering the hospital would be screened and no one under age 18 was allowed. That hospital stay was for three days and a follow-up was scheduled for about seven weeks later.
Here is more about what we learned about hospitalization during the COVID-19 era.
Be prepared before arriving at the emergency room
Entering the hospital through the emergency room was one thing. This hospital stay was planned and thus the admission process was new to us. The doctor's office provided a checklist and a map in case it was needed. The list began with the location, arrival time, and a reminder not to eat or drink after midnight. It was a simple task to pack an overnight bag and gather medications. One instruction sheet said to bring your medications and one said to bring a list. We packed both just to be sure. My husband took his morning pills with a "sip of water" and waited for the morning to pass because his arrival time was set for 1:30pm.
By mid-morning he was getting restless, so we went over the patient information booklet more carefully than we did the day before. There was information about rating any pain you may experience, understanding interactions between food and medicine, and what to know about admission and discharge.
Speak up: Be your own patient advocate
One graphic caught my eye because it was similar in intent to the Aware in Care hospital kit distributed by the Parkinson's Foundation.1 The advice is to S.P.E.A.K. U.P. as your own patient advocate to prevent medical errors in your treatment and care.2-3
Speak up if you have questions or concerns. If you still don't understand, ask again.
Pay attention to your care and the medical staff. Look for identification badges. Make sure you are getting the right treatments and medicines. Don't assume anything.
Educate yourself about your condition and any medical tests and procedures you will undergo.
Ask a family member or friend to advocate for you. Give them a green light to ask questions for you if you are stressed or influenced by medications.
Know what medicines you take and why. Did you know that the most common healthcare mistake is in giving medicine?
Use facilities that are accredited. If you have more than one hospital in your area, then ask your doctor which one is best for your care.
Participate in decisions about your care. If you need more information, then ask to speak with others who have had the same treatment or ask for a second doctor's opinion.
When it was time to head to the hospital, we dutifully went down our list one last time.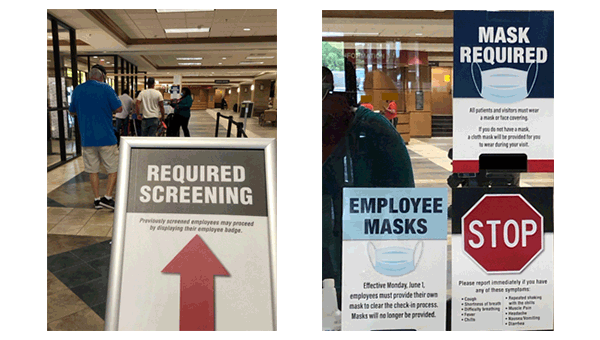 What to expect when you arrive at the hospital
There is a station at every entrance of our local medical center with signage to direct you to the required screening desk. One sign lets you know that masks are required for all employees, patients, and visitors.
If you do not have a mask, a cloth mask will be provided for you during your visit. A sign for employees informed them that they must provide their own mask to clear the check-in process because masks were no longer being provided by the hospital. This was our experience. Yours may be different.
Don't leave your ID at home!
The screening desk had a large acrylic barrier between us and the persons checking our identification and printing our visitor tags. An employee took our temperature and asked several questions about any current exposure to COVID-19.
Have you traveled outside of your area?
Do you have a cough or shortness of breath?
Are you experiencing muscle ache?
Do you have a headache?
Do you have diarrhea?
Another employee requested that we drop our driver's license in the slot in a small box on the table. The license disappeared momentarily and then popped up for retrieval. The license photo appeared on our to-be-worn-at-all-times name tag along with the patient's name and room number.
With our newly printed name tags as patient and visitor, we moved to the admissions waiting area. It was not long before we were called to the desk and an employee led us to the pre-op admittance waiting room. My husband went back over several questions with a staff member before we were escorted to a curtained area for his pre-op. I was allowed to join him.
Staying 6 feet apart
There were more medical questions, another temperature check, and questions about exposure to COVID-19. The halls and rooms contained the now-familiar no-visitors sign and a stop sign on which the COVID-19 questions were listed. I waited in an area where I would say the distance between people was much more than six feet. The only place I noticed anyone closer than six feet apart was the elevator and that was only if more than two people were present.
Only one visitor per patient allowed
It should be clear by now that the basic rule about visitors was one approved caregiver per patient. My husband's cousin and a friend wanted to visit. We asked and learned that one person could come in as long as the person already with the patient went to the screening check-in to exchange places. I stepped out and his cousin went in. Ditto for his friend.
Tips for caregivers
The more I went in and out during his hospitalization (to feed our pets), the quicker I could go through screening. The employees knew my name, my husband's name, and his room number. They were kind and efficient. I never witnessed anyone acting out as we followed the procedures in place to try to keep us healthy.
I am grateful to say my husband's procedure went well. The entire hospital experience was unlike anything we have gone through in regard to personal protective equipment and screenings. I do not know if hospitals in larger metropolitan areas and smaller towns operate the same as in our city, but I hope this information helps you if you are facing hospitalization while COVID-19 precautions are in place.
This article represents the opinions, thoughts, and experiences of the author; none of this content has been paid for by any advertiser. The ParkinsonsDisease.net team does not recommend or endorse any products or treatments discussed herein. Learn more about how we maintain editorial integrity
here
.

Community Poll
Which of the following caffeinated beverages do you regularly consume?