Every Month is Parkinson's Disease Awareness Month for Us!
April was Parkinson's Disease (PD) Awareness Month. At the beginning of the month, ParkinsonsDisease.net posed the question, "What does awareness mean to you?" Well, it has taken me until now to answer that question!
Awareness created
There are always many activities during PD Awareness Month, not only in the US but the world! Fundraisers, 31 T-Shirts for 31 days (that was our baby), as weel as one of several social media activities. "Wear Gray for PD" was another awareness campaign. Tulip Tuesday is a fundraiser and awareness campaign done by our former support group - Parkinson's Association of SW Florida. Of course we cannot neglect the many walks that occurred during April, including the Parkinson's Unity Walk #PUW2018, that is held every year in Central Park in New York! I WAS THERE!!!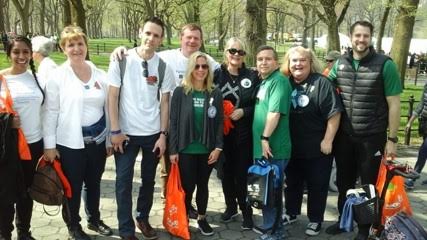 Why do we need awareness?
Both my husband and I have Parkinson's. (No it is not catching! We met because of PD). We deal daily with the devastating effects. Parkinson's is associated with the outward symptoms of tremor, slowed movement, and shuffled walking. There are also unseen symptoms: depression, slurred and soft speech, choking, gastro-intestinal issues, mask-like expressions, pain and more. Every nine minutes a new case of Parkinson's is being diagnosed in the US alone. There is NO CURE for Parkinson's! Globally, research shows that the number of people with Parkinson's disease will soon grow to pandemic proportions. In a commentary appearing in the journal JAMA Neurology, University of Rochester Medical Center Neurologist Ray Dorsey, M.D. and Bastiaan Bloem, M.D., Ph.D., with Radboud University Medical Center in the Netherlands, argue that the medical community must be mobilized to respond to this impending public health threat.
Young onset Parkinson's disease
At the time of my diagnosis and that of my husband's (1999 and 1995 respectively), there was still a very real misconception about young-onset Parkinson's disease (YOPD). There was in fact little to no information out there just for YOPD. We do not fit into the traditional mold of PD! Many YOPD'ers are still raising children, working, have mortgages, and are very active. They have very different needs than that of a 75-year-old person. But back when we were diagnosed they still thought it was an occurrence that didn't happen often. Tell that to the hundreds of my freaky and shaky YOPD friends! Fortunately, because of awareness and advocacy those of us with YOPD are finally recognized with regards to our needs and way we handle information.
We are MORE than just Parkinson's disease
Creating awareness of Parkinson's is vital, but as I began to think about this, I also began to realize we need to do more! We also need to be aware of the people behind the disease. We need to celebrate those things! Focus on the man or woman, artist, writer, musician, grandparent… Our accomplishments. Because we are so much more than our disease!
I am a:
Wife
Mother
Daughter
Grandmother
An early onset Parkinson's Patient (AGE 51)
Author
Advocate
Co-Founder of a non-profit organization for PD- Movers & Shakers
Public speaker
Writer
Friend
Member of a global Parkinson's community
Darn good fisherman
Lover of antiques
Photographer
A PERSON!
What is your list? Please share your list in the comment section.
Every month is Parkinson's Disease Awareness Month
For those of us that have Parkinson's or are care partners or family to those of loved ones with PD, EVERY month is PD AWARENESS month! For the rest of the world, life goes on. However, we do need more awareness of Parkinson's. We need more people to step up and advocate for research and advocating for us within our governmental circles. We need help to find better treatments and a cure.
We need recognition as MORE than our disease. We are capable of great things if given the chance to shine.
Creating awareness and advocacy comes in many forms. Sometimes it is a casual conversation with a store clerk about why you shake and need the change put into the bag instead of trying to handle it. It may be speaking to a class of nursing students about the effects of PD, so that they are more aware of Parkinson's when they ultimately encounter someone with this disease. It could be writing a letter to your local newspaper about Parkinson's activities in your area.
So, the next time you feel like the older man fumbling for change at the check-out stand, or are judging a younger person who looks like they are drunk or on drugs, remember that it is time to create some awareness and educate others about Parkinson's! But also that you are MORE than their disease, and you could probably use a smile.
This article represents the opinions, thoughts, and experiences of the author; none of this content has been paid for by any advertiser. The ParkinsonsDisease.net team does not recommend or endorse any products or treatments discussed herein. Learn more about how we maintain editorial integrity
here
.

Community Poll
Which of the following caffeinated beverages do you regularly consume?