5 Things to Help a Parkinson's Bad Day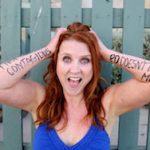 By Allison Smith

·

December 15, 2017
As Parkies, we know that everyday will be a guessing game as to how you will be feeling. You wake up in the morning and spin that wheel. What will it land on? Maybe rigidity, tremor, freezing… or… maybe you will hit the jackpot with slower than a geriatric slug on a salted snowed-in street. Although the guessing game can be fun, it can be a bit exhausting when you try to make plans. You never know how your Parkinson's will behave. Furthermore, if you have a good day, you will not be able to recreate it. You could even groundhog that day by wearing the same outfit, eating the same foods and doing the same activities, but each day will still be different.
Tips for a bad day
So what can you do when you've landed on a grueling day where everything seems to be challenging? Well you can follow my list of things you can do this very moment that can help when you have a Parkinson's bad day.
The sun will come out
Hopefully these 5 things can brush the dark clouds away and help you get through a difficult day. But if that still doesn't work, I can always put my Annie wig on and sing, "The sun will come out, Tomorrow, So ya gotta hang on, 'Til tomorrow, Come what may"…. at least you would laugh.